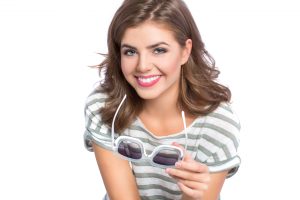 2019 is here! The start of a new year can encourage people to make a new start, and to leave problems in the past. If you feel like your current smile looks dull or discolored, you may be ready to rid yourself of frustrating teeth stains. Your St. Louis, MO dentist can help you with this by providing a professional teeth-whitening treatment. Using professional care, rather than an over the counter whitening product, can lead to better results, and make a big difference in your smile. If your discoloration is related to something other than teeth stains, you can also learn about the benefits of other cosmetic dental treatments.
You Can Look Forward To Big Cosmetic Changes After You Whiten Your Teeth
A professional teeth-whitening treatment will utilize advanced whitening agents to remove stains that are difficult to address with store bought products. You can take home a kit that includes your whitening agents, and custom trays that help you apply these agents evenly across your teeth. If you want to make sure your improvements are completed in less time, you can arrange for a single-appointment treatment at the office.
Intrinsic Discoloration Can Seem Difficult To Treat – We Can Help
If you have problems with dental discoloration due to something other than teeth stains, Dr. Johnson-G'Sell can talk to you about effective alternative cosmetic procedures. Intrinsic internal discoloration can result from dental trauma and it can come about as a side effect of taking certain medications. It is possible to hide internal blemishes with porcelain veneers, which are set on the front of your teeth. Once you have them placed, veneers can have the added benefit of addressing issues with the shape or condition of problem teeth.
Talk To Magnolia Family Dental About Addressing Teeth Stains
At Magnolia Family Dental, you can count on Dr. Johnson-G'Sell to help you take care of frustrating smile flaws. In addition to addressing teeth stains, you can count on cosmetic work to hide problems with dental damage, flaws with the shape of teeth, and more! You can set a consultation with Dr. Johnson-G'Sell by calling Magnolia Family Dental in Kirkwood/St. Louis, MO, today at 314-822-4521.