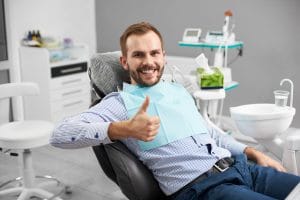 Every time you brush and floss your teeth, you are protecting your smile by removing accumulated plaque and food debris. Effective preventive dental habits can keep your mouth clean of harmful agents, and keep your risks for cavities and gum disease lowered. Unfortunately, plaque may gather over time, even when you take care to protect your teeth. A buildup of plaque can eventually harden to tartar, a substance that can resist your daily cleanings. Fortunately, your hygienist can offer a professional dental cleaning at every checkup. During this cleaning, your smile can be thoroughly cared for, and you can look forward to having plaque and tartar removed from your teeth.
My Teeth Are In Great Shape! Do I Really Need To Visit My Dentist?
Are you committed to keeping your smile healthy? Are you confident in your ability to avoid cavities and gum disease with your daily oral care routine? You should certainly keep up with practices that give you confidence in your oral health, but those practices are not a real alternative to professional preventive dental care. Your hygienist can give your teeth a particularly dedicated cleaning. In addition to taking care of tartar, they can remove harmful agents from especially hard to reach areas. Your dentist's review is also important. If a small cavity has started to form, they can spot it, and recommend early intervention. It can be difficult to notice an early problem with tooth decay on your own.
A Combination Of Daily And Professional Dental Care Can Do Wonders For The Health Of Your Smile
Effective care at home, coupled with regular dental checkups, can limit your overall risk for problems that might require restorative dental care. Unless you are told to use a different time line, you should see your dentist every six months for a routine review. If you have questions about the effectiveness of your daily habits, your dentist can offer helpful guidance.
Schedule Your Next Checkup And Cleaning At Magnolia Family Dental
At Magnolia Family Dental, patients can look forward to fantastic professional oral health support. By keeping up with regular dental checkups, you can keep your smile safe from oral health threats. You can schedule an appointment with Dr. Emily Johnson by calling Magnolia Family Dental in Kirkwood/St. Louis, MO, today at 314-822-4521.