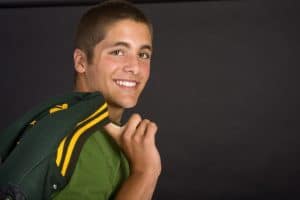 If you have ever experienced dental trauma, you can be all too familiar with how distressing – and painful – this kind of injury can be. Serious harm can make emergency care necessary, but even a seemingly minor injury can require restorative dental treatment. Because they can face real risks for injuries that affect their oral health, many athletes make sure to wear a mouthguard when they play sports. Store bought guards can offer some help, but they can leave you with less protection than you desire. They can also feel awkward, because they are not sized to fit your mouth. Your dentist can create a custom mouthguard that fits comfortably, and keeps your smile safe. A mouthguard can also be constructed for individuals who experience bruxism, which causes them to grind their teeth during sleep.
Receiving A Custom Mouthguard To Keep Your Smile Safe While You Play Sports
With a custom mouthguard in place, you can give your smile better protection while you are active. This protective appliance can be especially reassuring if you have undergone cosmetic dental work, and want to ensure that work is preserved. If you are a parent raising a young athlete, you can feel more confident that their developing smile will stay safe when you have a custom-made guard created for them.
Using A Mouthguard To Protect Your Smile Against The Effects Of Bruxism
Habitual teeth grinding can cause serious problems for your oral health. Patients who suffer from bruxism can experience TMJ dysfunction, and they may can put serious wear and tear on their teeth. Your dentist can provide you with a guard to wear while you sleep. A custom guard can be more comfortable, so it is easier for you to fall asleep. It can also be counted on to stay in place, so your teeth stay protected.
Talk To Magnolia Family Dental About Receiving A Custom Mouthguard
At Magnolia Family Dental, we can provide you with a custom mouthguard designed to fit you comfortably, and offer superior protection for your smile. We are proud to help patients keep their smiles safe, and we can certainly help if you find yourself needing treatment for an oral health problem. You can set up your appointment with Dr. Emily Johnson by calling Magnolia Family Dental in Kirkwood/St. Louis, MO, today at 314-822-4521.