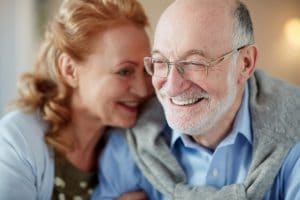 Tooth loss is a serious issue that can impact your appearance, your oral health, and the quality of your daily life. You can reduce your risk for losing teeth by keeping up with periodontal care, and maintaining a healthy smile. If you have already suffered the loss of even one tooth, you should discuss receiving a prosthetic replacement with your dentist. Many patients are now enjoying the advantages provided by an implant-supported restoration. With the stability provided by a dental implant, you can feel more confident in your dental function, and feel great about how you look. Your dentist can help connect you to a specialist who can place your implant, and they can provide you with an attractive and durable restoration.
Tooth Loss Can Lead To Issues With Your Dental Function, And Affect Your Appearance
The impact of tooth loss has on your appearance will vary, simply because some teeth are not as easy to see as others when you smile. What you should understand is that a tooth that is relatively hard to spot in your smile needs to be replaced, even if it is not causing as much of an issue with how you look. A missing tooth can make it harder to chew food, which can lead to TMJ troubles, and excessive wear on remaining teeth.
How Implants Can Help You Sustain Your Jaw Health
Dental implants have given patients the ability to have securely supported prosthetic restorations. With implant support, you can hold an individual replacement tooth, or even a set of dentures! This permanent support can make you more comfortable with your prosthetic, and it can make biting and chewing easier. Implants are also important because of the support they provide your jawbone, as they can stimulate the bone, and prevent it from deteriorating over time.
Receive An Implant-Supported Restoration From Magnolia Family Dental
At Magnolia Family Dental, you can receive excellent care when you need to address tooth loss. Our practice is proud to help patients restore their smiles, and enjoy better dental function. To schedule an appointment to learn more about prosthetic dental care, you can contact Dr. Emily Johnson by calling Magnolia Family Dental in Kirkwood/St. Louis, MO, today at 314-822-4521.