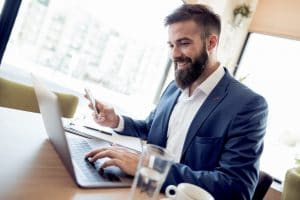 The health of your smile should be a priority, but there are obviously going to be times when it is far from the forefront of your mind. You can take care to focus on your dental needs when you brush and floss, or when you have a routine dental appointment coming up, but you may not realize the way your routine can leave your teeth at risk. Your habits at work can play a surprisingly big part in how well your smile's health is maintained. If you want to reduce your risk for problems like tooth decay and gum disease, evaluating your behaviors at the workplace can lead to you finding areas of improvement.
Rushing To Work Without Taking The Time To Properly Brush And Floss
One work habit you have fallen into may interfere with your oral health before your workday actually starts. When you clean your teeth, you should give yourself time to thoroughly tend to them. If you rush your brushing and flossing sessions in the morning, you can leave harder to reach areas vulnerable to a buildup of plaque and tartar.
Relying On Sweet, Sugary Snacks During The Day
When you need an energy boost during the day, do you turn to your nearest vending machine for help? The occasional treat can be nice, but a habit of eating sugary snacks can leave you with a greater cavity risk. Remember, the problem is not just with sugar – sticky items can become stuck to teeth, which can lead to troubles.
Failing To Stay Hydrated
Drinking more water throughout your work day can have many benefits, some of which concern your oral health. One advantage to drinking more water is that when you are properly hydrated, you can more easily produce saliva, which helps you fight oral bacteria, and clean your teeth. Replacing coffee with water can reduce your risk for accumulating stains that dull your smile.
Magnolia Family Dental Can Provide You With Terrific Smile Care
At Magnolia Family Dental, we are dedicated to providing you with fantastic dental care at every appointment. Our practice is ready to give your smile amazing support during routine care, and we are ready to step in if you need to address an oral health threat. To learn more, you can contact Dr. Emily Johnson by calling Magnolia Family Dental in Kirkwood/St. Louis, MO, today at 314-822-4521.