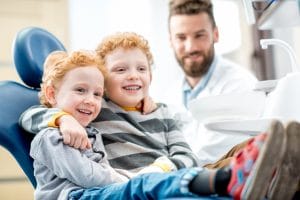 What do children gain from visiting the dentist at an early age? Once your child's teeth start to become visible, it is time to think about how to best protect their oral health.   It is important to learn to care for your child's teeth, and how their diet and habits can affect their dental development. The American Dental Association recommends bringing your child to the dentist within six months of your baby's first tooth arriving.  Dr. Johnson-G'Sell can then complete a "well baby" exam, and will begin to answer questions you may have about how to care for your child's teeth,  and visually check to see that their development is on track and that there are no early signs of decay. This is not a traditional routine dental checkup. What Dr. Johnson-G'Sell does during this appointment varies depending on your child's age and cooperation.  These are typically fun and "easy" visits to help your child feel comfortable in our office, and they will receive a special prize or sticker!  We want our patients to have positive early memories of visiting the dentist.  Regular pediatric dental exams typically start at around the age of three. These checkups are particularly important because they help to inform you, their parents, about why good oral health care is so important, while also protecting them from threats like tooth decay as early as possible.
Introducing Your Child To Dental Care
An early introduction to dental care can help kids feel at ease with their dentist, which can mean less fussing and panicking from them when it is time for routine dental visits in the future. These appointments also give Dr. Johnson-G'Sell the opportunity to encourage your child to understand how important it is to take care of their teeth. As part of this commitment, Dr. Johnson-G'Sell can offer guided instructions to your child on how to brush and floss their teeth.
Providing Care That Is Tailored To The Needs Of Young Patients
Unfortunately, even with access to regular dental care, kids can face greater cavity risks than adult patients. This can be because they have a harder time with effective daily oral care, or because they tend to seek out more sugary foods and drinks. Dr. Johnson-G'Sell can recognize higher risk patients at an early age and can give kids extra cavity protection with fluoride treatments and dental sealants, which lower their risk for developing tooth decay.
Talk To Magnolia Family Dental About Scheduling A Dental Visit With Your Child
At Magnolia Family Dental, patients of all ages can enjoy access to fantastic oral health care. We are proud to help our youngest patients recognize the value of a healthy smile, and to work with them on protecting their teeth. You can schedule an appointment today by calling Magnolia Family Dental in Kirkwood/St. Louis, MO, today at 314-822-4521.