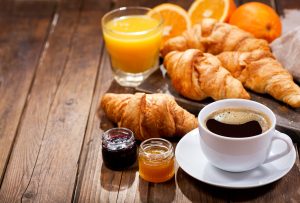 The right morning routine can help you greet your day with more energy, and more confidence. While your focus may be on making it to work on time, or having your kids safely dropped off at school, you also need to give your smile proper attention. You should take time in the morning to properly clean your teeth, so you can rid yourself of harmful oral bacteria. Consistent brushing and flossing habits protect you against the formation of calculus, and allow you to reduce your risk of dental troubles. You also need to think about how your usual breakfast impacts your smile. While you can count on your St. Louis, MO dentist to support your smile during regular checkups, your typical morning behaviors can make a big difference to the health of your teeth.
HELPING: Give Yourself Time To Properly Clean Your Teeth
If you think of this routine as something to "squeeze" in, or something you can skip when you oversleep, your smile can be more vulnerable to cavities than you realize. You should give yourself at least two minutes each time you brush, and make sure every surface of every tooth receives proper attention.
HURTING: Be Wary Of Breakfast Options That Contain Too Much Sugar
It can be hard to resist the many breakfast treats available to you. While you can find temptation in familiar forms like sugary cereal, or pastries in the office break room, be careful about your typical morning diet. Starting your day with so much sugar can make your cavity risk spike.
HELPING: Watch Coffee Consumption For the Sake of Your Smile
A cup of coffee can be low in sugar, but the beverage's dark color poses a threat to your smile. If you rely on coffee to help you start your day, you can wind up with unsightly stains that call for a professional whitening treatment.
Magnolia Family Dental Can Help You Maintain A Happy And Healthy Smile!
Magnolia Family Dental proudly offers the kind of routine smile care that can help you keep your teeth in better shape. In addition to examining and cleaning your teeth, our practice is ready to provide restorative and cosmetic support. You can schedule your appointment with Dr. Johnson-G'Sell by calling Magnolia Family Dental in Kirkwood/St. Louis, MO, today at 314-822-4521.