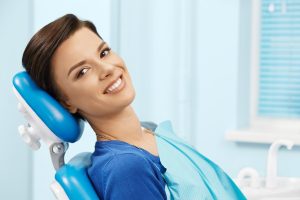 Your St. Louis, MO dentist is excited to help you maintain a healthy smile. You can enjoy quality preventive care when you come in for routine checkups, and you can count on receiving care in a supportive environment if a problem does arise with your oral health. Of course, your concerns with your smile may not be limited to your health. If you have an interest in making cosmetic smile improvements, Dr. Johnson can discuss your treatment options. You might be surprised to learn just how much good one cosmetic dental procedure can do for your appearance.
What Kind Of Changes Are You Interested In Making To Your Smile?
There are several cosmetic dental procedures your dentist can recommend to help you grow more confident in your appearance. If you have no issues with the condition or alignment of your teeth, but want them to be brighter, you can discuss a professional whitening treatment. This can result in improvements that stand out, as Dr. Johnson can provide you with whitening agents that can outperform store bought whitening products. Individuals who are interested in addressing problems with the shape, size, or position of teeth can benefit from different services, like bonding and contouring treatments, or the placement of porcelain veneers.
You Can Be Surprised At How Much Improvement One Cosmetic Treatment Can Make
If your smile is affected by problems with the condition of your teeth, you may worry that it will take considerable time and effort to produce meaningful changes. You can be excited to find out that many improvements can be realized with just one procedure! If you arrange a bonding and contouring procedure, careful changes can be made with less alteration to teeth. In many cases, it is possible to complete this work in just one appointment. It can take longer to place porcelain veneers, but these long -lasting  cosmetic restorations can be more durable.
What Can You Do To Preserve Your Smile Improvements?
You can be thrilled by the changes you see after you undergo your cosmetic work. So how are you going to feel when more time has passed? If you take care of your smile, you can better preserve your results. Be careful about biting and chewing on hard surfaces – an idle habit of chewing ice cubes or pen caps can lead to a damaged veneer, or problems for teeth after a dental bonding procedure. If you want to maintain your brightened smile, you should be consistent and thorough about cleaning your teeth, and careful to limit how often you eat or drink products that are dark or rich in color.
Magnolia Family Dental Can Help You Show Off A Better Smile
The right cosmetic dental procedure can have an amazing effect on the way you look when you smile, and the way you feel about your overall appearance. Dr. Johnson is excited to help individuals in and around St. Louis, MO target issues that affect the way they look. To book your appointment, please call Magnolia Family Dental in Kirkwood/St. Louis, MO, today at 314-822-4521.