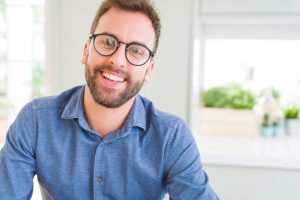 Brushing and flossing regularly are important actions to take if you want to defend your teeth against cavities. Unfortunately, a smile care routine that effectively defends you against tooth decay and gum disease may still allow stains to gather on your enamel. If you are looking for an effective solution, bring the matter up with your St. Louis, MO dentist, Dr. Johnson. A professional whitening treatment can remove stubborn stains, and change the way you look. You can also discuss other cosmetic dental treatments. The right procedure can help with wear and tear, misshapen teeth, and even forms of discoloration that are difficult to address through the use of whitening agents.
Take Home A Whitening Kit And Make Big Improvements To Your Appearance
You can take care of difficult stains with a professional whitening kit you take home. Dr. Johnson can provide you with the whitening agents you will need, along with custom trays that allow you to evenly apply these materials. Each day, you can select a time that is best for you, and follow through with your treatment. In approximately two weeks, you can complete a treatment that has a terrific effect on the way you look!
Arranging Cosmetic Treatment At Your Dentist's Office
You can also set up a cosmetic dental procedure at your dentist's office. If you are pressed for time before an important event, and want to improve your smile, you can arrange an in-office teeth whitening procedure with Dr. Johnson. This can lead to impressive smile changes that only take one appointment to complete!
Finding A Way To Correct Different Issues That Can Affect The Way You Look
If you are only worried about the effect teeth stains have had on your appearance, a teeth whitening procedure can lead to results that thrill you. With that said, you may be ready to find out about other cosmetic dental procedures, and how they might help you. If you are interested in covering problems that concern the shape, size, or apparent health of your smile, you can discuss a bonding and contouring procedure, which can target flaws for precise fixes that require minimal changes to your tooth structure. You can also have porcelain veneers placed. Veneers are permanent restorations that cover up visible flaws when placed on the front of your teeth.
Talk To Magnolia Family Dental About Improving The Color Of Your Smile
You can learn about exciting opportunities to change your smile when you meet with Dr. Johnson to discuss cosmetic dental work! You can make your smile whiter with a professional whitening treatment that you take home, or look into alternative procedures that can benefit you. Our practice is proud to serve the oral health and cosmetic dental needs of individuals in and around St. Louis, MO. To find out more, please call Magnolia Family Dental in Kirkwood/St. Louis, MO, today at 314-822-4521.