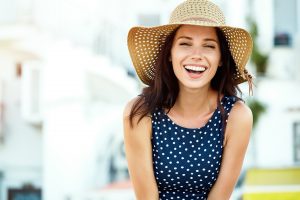 Summer brings warm weather, sunny skies, and plenty of motivation to go out and enjoy both. While these warm months are fast approaching, you may not realize that there is still time to greet the season with a more attractive smile! Your St. Louis, MO dentist's office is ready to meet with people interested in cosmetic dental work. You can schedule a teeth whitening treatment, or work to correct flaws with the shape or size of teeth, before you start engaging in summer fun.  
You Can Start Improving Your Smile With Your Take-Home Whitening Kit
Picking up a professional teeth whitening kit from Dr. Johnson can lead to dazzling improvements to the color of your smile. While store bought whitening products can have little effect beyond removing stains from the surface of your teeth, professional whitening agents can make more significant changes to the way you look. After about two weeks of daily treatments, your teeth can be significantly brighter. Because people are sometimes eager to make sure their results are achieved in a shorter window of time, Dr. Johnson can arrange an in-office treatment, for improvements in the span of one appointment.
Addressing Problems With The Shape Or Size Of Teeth Can Boost Your Confidence
Summer vacations and other fun outings create photo opportunities. If you want to flash a more attractive and confident smile this season, you can look into cosmetic work to improve issues with flawed teeth. A bonding and contouring treatment can address your concerns with the shape, size, and color of teeth that stand apart in your smile. Contouring carefully removes enamel to reshape or resize your tooth. Tooth bonding calls for the careful application of a special resin material to cover up damages, close spaces between teeth, and improve the color of your tooth. Because these long-lasting improvements do not require the placement of restorations, this work can be accomplished in less time than you might expect.
Don't Forget – The Health Of Your Smile Is Also Important!
A trip to the dentist during the summer can be about more than just cosmetic work! Because kids are out of school, this season can be an ideal time to arrange pediatric dental exams, as well as your own routine checkup and cleaning. These routine appointments help you by removing harmful plaque and tartar, identifying potential oral health issues, and keeping you informed about the condition of your teeth and gums.
Talk To Magnolia Family Dental About Arranging Cosmetic Care In Time For Summer!
Magnolia Family Dental is ready to help people in and around the St. Louis area show off better, brighter smiles! If you have questions about cosmetic dental work, or if you want to make sure you are in good oral health, we are ready to help! To set an appointment, please call Magnolia Family Dental in Kirkwood/St. Louis, MO, today at 314-822-4521.