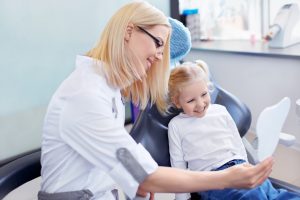 The summer break is a great opportunity to spend time with your kids, and enjoy family activities. While those activities can include fun trips, and little mini-vacations to local spots, you should also make time for your kids' health needs. Summer is a great time to
set up pediatric dental exams with your St. Louis, MO dentist's office
. Dr. Johnson can help kids of all ages maintain healthy smiles, and everyone at our practice is committed to making our youngest patients feel welcomed, and safe. These visits do more than just give feedback on the state of a child's smile – they are also great opportunities to teach kids about the value of dental care.
Regular Checkups Are Important For Young Smiles
A child's smile will inevitably change over time, as they grow, and as their primary teeth are replaced by their adult teeth. What stays consistent is the importance of keeping their teeth healthy. Dr. Johnson provides quality care to patients of all ages, but takes special care to offer young patients treatment, and instructions on better oral health habits at home. That support helps kids to fully protect themselves against gum disease, tooth decay, and other dental concerns.
When Is The Right Time To Start Pediatric Checkups?
A first visit is typically recommended within six months of your child's first tooth arriving, or by the time of their first birthday. This early visit introduces kids to Dr. Johnson, and our practice, so they can grow comfortable in the dentist's chair when regular visits start. Those routine appointments should start at around age three, and they will offer important support for your child as they grow and develop. Dr. Johnson can also let you know if they might need orthodontic work, or other forms of treatment to address developmental concerns.
Make Sure Your Checkups Are Scheduled, Too!
You may not enjoy a summer break like your kids do, but you can enjoy the benefits of preventive dental work! In addition to scheduling pediatric checkups, make sure you have your own regular dental visits scheduled, too. Each of your regular appointments will include the removal of any plaque or calculus deposits that create oral health risks, as well as a careful examination of your teeth and gums. Attending your own checkups will show your kids that you see the value of a healthy smile. They also help you keep your teeth looking great, and protect you from problems that might require restorative dental work.
Set Up Your Child's Next Dental Visit At Magnolia Family Dental
Magnolia Family Dental is ready to provide quality pediatric care for our young patients! The summer months can be a great time to fit in your child's next checkup with Dr. Johnson, and it can be a good time for you to set an appointment for yourself. You can learn more, and set up your appointment at Magnolia Family Dental in St. Louis, MO, by calling 314-822-4521!