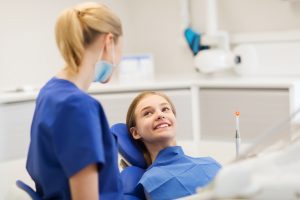 Your kids can require new clothes and new school supplies before classes begin again. If you want to make sure they start the new school year with healthy teeth, you should also make time for a pediatric dental exam at our St. Louis, MO dental practice! It can be easier to arrange checkups for your children while they are still out of school. This arrangement also ensures that if they have any problems with tooth decay, those problems can be addressed before there are worrying complications. Dr. Johnson is ready to meet with your kids, and provide quality oral health support. During these visits, kids can also receive helpful instructions to improve their daily dental care routine.
Fitting In A Pediatric Dental Exam Before The New School Year
Semiannual dental appointments can help people of all ages keep their teeth in good health. If you want to ensure that your kids are enjoying the benefits of preventive dental services, the summer can be a great time to arrange their care. It can be easier to simply book an appointment in the summer than it is to take them out of their classes. This review also allows Dr. Johnson to alert you to any problems, and arrange restorative dental work, before their schooling resumes.
We Can Keep Kids Comfortable During Dental Work
While you can help a child nervous about dental care appreciate the need for their checkup, their unease can remain. At our practice, we focus on making kids comfortable during every visit. In addition to creating a welcoming, friendly atmosphere in our office, we can use nitrous oxide to help kids remain calm in the dentist's chair. It should be noted that if you want to help your kids grow comfortable with dental exams, it can help to start them at an early age. In fact, we can perform a "well baby" exam for kids around their first birthday to introduce them to the dental office, and to confirm their oral health development is occurring normally.
Keep Encouraging Your Kids To Take Good Care Of Their Teeth At Home
Summer allows kids to take a break from school, and it can be a time when they generally relax and enjoy more freedoms than normal. With that said, it is important to stay consistent with good dental care, even in this time of year. Make sure your kids continue to brush and floss effectively, even when you are on vacation. You can also help by making sure kids hydrate by drinking water, and by providing healthy snacks that are low in sugar.
Schedule Dental Exams For Your Kids At Magnolia Family Dental!
Magnolia Family Dental is ready to help everyone in your family enjoy great smile care! If you need to set up a checkup for yourself, or for your kids, we are ready to help. You can reach our St. Louis, MO dental practice by calling 314-822-4521.