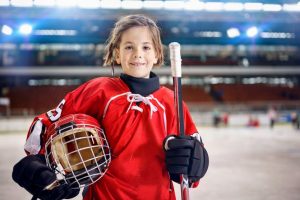 Is there a promising young athlete in your household? When the new school year begins, your kids may be eager to sign up to play a sport, or several sports. While athletics can be rewarding, these contests can also make you understandably concerned about injuries, including dental injuries. At our St. Louis, MO dental practice, we can provide custom mouthguards that keep teeth protected. A specially made guard can be more comfortable for the wearer, and stay more secure throughout games. We also provide special, custom-made guards to help wearers protect their teeth at night from bruxism, a harmful teeth grinding habit.
Keep Your Child's Smile Safe With Proper Gear
With proper safety equipment, athletes enjoy important protection against injuries. Mouthguards can significantly reduce the risk of suffering a chipped or cracked tooth that might create cosmetic smile concerns. This can be especially welcome relief if your child is going through orthodontic work, or if they have just completed a correction. After all, the last thing you might want to worry about after an adjustment is needing more work for your child's smile!
The Benefits Of Using A Custom Guard Over A Generic Appliance
While generic sports guards are available, a mouthguard that is customized for the wearer can be a superior option. A more stable fit can be more comfortable, and less distracting for the wearer. A custom guard is also easier to keep secure, so you will not have to worry about a lack of functional support. You obviously care about your young athlete's smile – relying on superior protection can make it easier to trust that their teeth are properly supported during their games!
Other Important Dental Services We Can Offer Kids And Teens
Dr. Johnson can offer great smile support to patients of all ages! In addition to providing important routine services like dental cleanings and evaluations, our pediatric dental checkups can also focus on educating young patients about better habits at home. That can mean fewer arguments over the importance of brushing and flossing, and fewer cavities. Routine visits also allow Dr. Johnson to track a child's development, and let you know if they could benefit from orthodontic work, or any other service to ensure that their smile develops properly.
Magnolia Family Dental Can Provide Your Child A Custom Mouthguard
Is someone in your household preparing to join a sports team? To help protect their teeth during physical contests, Dr. Johnson can provide customized mouthguards! People of all ages should be concerned about dental safety during sports. With these specially designed guards, smiles can enjoy effective protection, and the risk for problems that might require restorative or cosmetic work can be reduced! If you would like to learn more about custom sports guards, the guards we offer for protection against bruxism, or any service that we can provide, you can reach Magnolia Family Dental in St. Louis, MO by calling 314-822-4521.