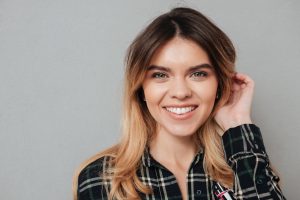 While you think fondly of how you might look after cosmetic dental work is done, the treatment process itself may feel intimidating. When patients are unsure of what to expect during cosmetic work, they can imagine that procedures are more involved than they really are. During a consultation, you can find out how our St. Louis, MO dental practice can help you improve your appearance with less work than you might expect! These services can lead to great smile improvements that are long-lasting, and you can look forward to noticeable changes with relatively little modification of your tooth structure.
You May Be Closer To Your Ideal Smile Than You Expect!
If you have several teeth that you want to improve, or if you have significant problems with dental discoloration, you may assume that cosmetic work will be a difficult or involved process. However, many times the process can be completed with less time and effort than you assume! With custom-made porcelain veneers, all of your smile flaws can be effectively covered. If you want to make your smile significantly whiter, our professional whitening procedure can address difficult stains that a store bought product can struggle to remove.
We Have Different Options For Making Cosmetic Improvements
Once you start learning about the different cosmetic services our practice can provide, you can identify the right procedure for you! If you are hoping to correct a conspicuous flaw with a tooth's shape or size, a dental bonding and contouring procedure requires just one appointment. You also have the option of minimizing issues with the shape, size, or color of teeth by having porcelain veneers put in place. The veneer placement process can take longer, but restorations offer durable improvements that help sustain your new smile!
For patients who want to whiten their teeth, we can provide both in-office treatments and take-home whitening kits. You can select the approach that feels the most comfortable, and is easiest to fit into your schedule. Both options involve the use of advanced whitening agents that lead to remarkable improvements!
Maintaining Your Appearance After Your Cosmetic Treatment
Our office can provide cosmetic work with lasting results. With that said, you should always be mindful of how daily behaviors affect your appearance in the long run. For instance, if you take care to minimize your exposure to products that leave enamel stains, you can continue to show off a brighter smile after a whitening treatment. You can also take care to prevent trouble with the condition of restored teeth by breaking a habit of chewing on hard surfaces, and by addressing any problems you have with teeth grinding.
Talk To Magnolia Family Dental About Cosmetic Work
At Magnolia Family Dental, patients who want to see real smile improvements can find out more about our cosmetic dental services! We provide improvements to the shape, color, and size of your teeth in order to boost your confidence, and make you excited to share your smile! To learn more, or to set up a consultation with Dr. Johnson-G'Sell, please call Magnolia Family Dental at 314-822-4521.