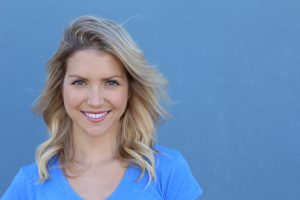 If you want to hide distracting smile flaws from the people you meet, you might take care to avoid smiling, or even limit how much you talk. If you want a lasting solution for these problems, and a boost to your confidence, make an appointment at our St. Louis, MO dental practice to discuss porcelain veneers! With porcelain veneers, you can hide flaws that have made you unhappy with the way you look. After custom veneers are placed, you can be free from problems like discoloration, poor alignment, and issues with damaged or misshapen teeth!
Learn About The Improvements Veneers Can Make To Your Smile
Porcelain veneers can be a means of covering up smile flaws that currently concern you. The restorations you receive are affixed to the front of your teeth, and can cover issues with dental damage, including wear and tear that might have changed the shape of certain teeth. They can also be relied on to hide blemishes that hurt the color of your smile. You can see the shape, color, and size of your teeth restored or improved with this one cosmetic dental service! In some cases, it is even possible to hide problems with poor dental alignment with your veneers.
What Will The Veneer Placement Process Involve?
To see ideal results, you should have veneers that are custom-made for the teeth that need cosmetic improvement. Because of this, you will schedule an initial appointment with Dr. Johnson to have your teeth carefully measured. This first meeting also gives you a chance to provide input about how you want your smile to look when your procedure is complete. To ensure that your veneers have the space they need, some preliminary work on your tooth structure can be recommended. When these custom cosmetic shells are ready, you return for a follow-up appointment to have them placed. The bonding process will keep veneers permanently fixed to the front of your teeth, and allow you to start showing off a smile you love!
Veneers Are Designed To Make Long-Lasting Changes To Your Appearance
Porcelain veneers are meant to be more than just a short-term answer for smile flaws. The porcelain material used to craft these cosmetic restorations is attractive, but it is also incredibly durable, so your results can be preserved for many years. The placement of porcelain veneers is one of several cosmetic services you can discuss with Dr. Johnson. A teeth whitening treatment can help you make your smile brighter, and bonding and contouring work can correct issues with the shape, size, and color of teeth without permanent restorations. With that said, patients can appreciate the durability of their veneers, and feel more confident that their new smile will endure over time.
Talk To Magnolia Family Dental About Correcting Smile Flaws With Porcelain Veneers
Magnolia Family Dental is proud to provide great smile care through modern cosmetic dental services! If you want to see big smile changes – and you want to make sure those changes last – you can discuss porcelain veneers with Dr. Johnson! To find out more about our cosmetic services, please call Magnolia Family Dental in St. Louis, MO at 314-822-4521.