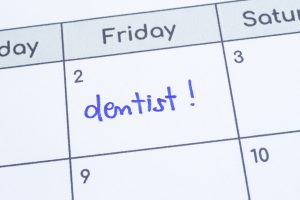 Remember that professional dental care has an important role to play in your efforts to preserve your oral health. Fortunately, your dental benefits can make it easy for you to arrange services that allow you to maintain the quality of your smile. While the end of 2019 is still several months away, the year can wrap up faster than you anticipate. Make sure you use your dental benefits before that happens! You can count on our St. Louis, MO dental practice to offer remarkable smile care during every appointment, so we can help you stay in great oral health!
Make Sure You Take Advantage Of Routine Dental Services
If you put proper effort into daily smile care, you can lessen the likelihood of threats like tooth decay and gum disease. What you should not do is assume that your daily contributions are the only efforts that should go into protecting your smile! At every routine dental exam, you receive a thorough professional cleaning to remove tartar and plaque deposits on your smile. You also undergo a detailed evaluation with Dr. Johnson-G'Sell, which can lead to important feedback about your oral health.
Setting Up Necessary Restorative Dental Work
If you have a problem with your oral health, ignoring the matter can mean more than just missing out on this year's dental benefits. A cavity that goes untreated can cause increasing harm to your tooth, meaning more restorative dental work can be required. We can address issues that might result from your tooth decay, and place the appropriate restoration. A modern dental filling or dental crown from our practice can match your natural tooth structure, and benefit your smile.
Find Out About The Services We Provide That Can Benefit You!
The right dental treatment can have an amazing effect on your smile! Dr. Johnson-G'Sell can work with you to address any issues that make you self-conscious, or that impact your quality of life. You can discuss the restoration of damaged or unhealthy teeth, and even problems with poor dental alignment. Our practice can also work with you to replace missing teeth.
Talk To Magnolia Family Dental About Using Your Dental Benefits Before The Year Ends!
At Magnolia Family Dental in St. Louis, MO, we can help you take great care of your teeth! If you have not used up your dental benefits, make sure you do before the year is completed. Dr. Johnson-G'Sell and our team are ready to help individuals who want to maintain their healthy teeth, and we can provide services that allow you to address problems with your oral health, and the way you look. If you want to use your dental benefits for 2019, or if you have any concerns about your smile you wish to address, you can reach Magnolia Family Dental at 314-822-4521.