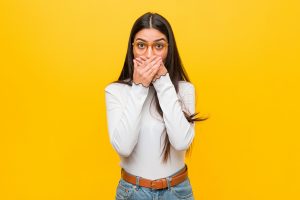 If you feel like your teeth stains are becoming hard to ignore, your confidence in your smile can suffer. At our St. Louis, MO dental office, we often speak with individuals who are concerned that their appearance is hurt by discolored teeth. Over the counter treatment options can leave people particularly frustrated by this problem, as they can deliver limited results. We offer two different approaches to treating teeth stains that affect your appearance. We offer an in-office treatment that can deliver great results in one appointment, and a take-home kit that you can use at your convenience. If something other than stains have affected your smile color, we can discuss the benefits of other cosmetic dental procedures to help you.
Teeth Stains Can Be Tough To Remove On Your Own
Your local grocery store or pharmacy may have several products that promise to help you remove unflattering teeth stains. In addition to toothpaste brands that promise a whiter smile, you can find whitening kits meant to target stains directly. These products can help you remove the stains that are on the surface of your teeth, but they can leave deeper stains in place. As a result, you can feel let down by the changes you ultimately see as you try to improve your smile. Dr. Johnson-G'Sell is ready to help you make more meaningful changes by addressing stubborn stains where over the counter products have fallen short.
Picking A Teeth Whitening Option That Best Fits Your Needs
Both the take-home whitening kit and the in-office whitening procedure can help you significantly brighten your smile. People often enjoy the freedom that comes with a take-home kit, as they can tend to their discoloration on their own time. However, if you want to see results as soon as possible, you can show off significant changes after just one procedure at our practice.
We Can Do More Than Deal With Your Dental Discoloration
Dental discoloration sometimes occurs because of enamel erosion, or because of certain medications that you have taken in the past. Because whitening treatments are intended to remove stains, you may want to learn about other cosmetic treatments for other causes of discoloration. We can discuss covering your dull or off-color teeth with porcelain veneers. Veneers are also effective at improving a person's appearance because they correct alignment flaws, and issues with the shape and size of teeth. You can also discuss having discolored teeth treated with a dental bonding procedure. Bonding treatments do not require the placement of any restorations – instead, composite resin is applied to the surface of your enamel.
Talk To Magnolia Family Dental About Dealing With Your Teeth Stains
At Magnolia Family Dental, Dr. Johnson-G'Sell has helped many people from the St. Louis area, and surrounding communities, make meaningful smile improvements. To find out how we can help you deal with dental discoloration, and any other issues with your smile, please call our dental office today at 314-822-4521.