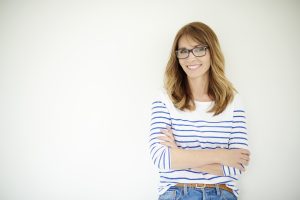 If you feel like your smile no longer looks the way it used to, dental wear and tear could be responsible. Over time, the friction from biting and chewing foods each day can start to affect the shape of teeth. For some individuals, the effect of that friction can lead to changes that become hard to ignore. Our St. Louis, MO dental office can help you if you want to address unwelcome changes to the shape of your teeth. Our approach to cosmetic dental work is different for each patient, as we want you to have the results that best suit your individual needs and concerns.
Are You Bothered By Teeth That Look Less Healthy?
In addition to changing the shape of teeth, and making your smile less uniform, wear and tear can make you look less healthy. Restoring the shape of your smile can help with this, while also giving you back an appearance that you are more confident sharing with everyone. It should be noted that in some cases, wear and tear may affect teeth to the point where it might be necessary to place dental crowns. Custom crowns can improve the look of your smile while also giving you support for biting and chewing.
Cosmetic Treatment Can Address Problems With The Color, Shape, And Size Of Teeth
Just one cosmetic dental procedure can be enough to improve the shape, color, and size of teeth. Some patients who want to fix these problems will choose a bonding and contouring procedure to see their desired results. Bonding and contouring procedures make changes possible without relying on permanent restorations. Instead, teeth are carefully reshaped, and restored with composite resin material applied to your enamel. Dr. Johnson-G'Sell can also correct problems with the appearance of your teeth with personalized porcelain veneers, which are affixed to the front of teeth. When in place, veneers can make remarkable improvements to the shape, size, and color of your smile.
Our Practice Can Also Provide Important Oral Health Support For Your Smile
While Dr. Johnson-G'Sell is ready to help patients see meaningful improvements to their appearance, our practice also provides great preventive and restorative dental services! It is important to schedule routine dental exams on a semiannual basis. During these appointments, patients receive thorough evaluations and cleanings that can help them stay free of oral health troubles. If any problems are found during your review, we can schedule the appropriate restorative dental care to bring your smile back to good condition!
Discuss Cosmetic Care At Magnolia Family Dental
At Magnolia Family Dental, Dr. Johnson-G'Sell can provide exciting cosmetic dental improvements if you are bothered by dental wear and tear. If you have questions about treatment options, or if you want to book cosmetic care, please call our St. Louis, MO dental practice at 314-822-4521.