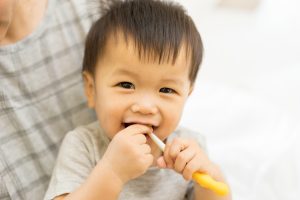 A baby's teeth can begin to erupt at around the six month mark, though children develop at different rates. Even before this occurs, parents need to provide gentle care for their baby's gums to keep them clean, and protect against early oral health issues. While you have a daily responsibility to care for your child's smile, you may be unsure about when to bring them for their first dental appointment. At our St. Louis, MO dental practice, we encourage parents to bring their babies in for a "well baby exam" within six months of their first tooth's arrival, or by their first birthday at the latest. This first visit is a chance to introduce an infant to a new environment, and gently check on their development. At around their third birthday, it can be appropriate to start routine pediatric dental appointments.
Why We Recommend Well Baby Exams
A well baby exam is a way of introducing your baby to the dentist's office, and an opportunity for Dr. Johnson-G'Sell to gently check on their developing smile. We take care to make our youngest patients feel safe and welcomed in this new environment. We can also offer tips to help parents continue protecting their child's oral health. The well baby exam can be a valuable first step toward a lifetime of good oral care.
Pediatric Dental Visits Can Provide Long-Term Value For Kids
Pediatric dental visits help kids protect their teeth through the years, and provide them with encouragement to take care of brushing and flossing at home. Children can struggle with dental health because they are still learning the importance of preventing issues like tooth decay. Because of this, Dr. Johnson-G'Sell can take more time on education and instruction during these visits. Of course, pediatric dental visits will also include the thorough cleanings and inspections that adult patients receive during their preventive dental appointments.
We Offer Great Dental Care For Parents, Too!
If you want to encourage your kids to keep their teeth healthy, make sure you set a good example by taking your own oral care seriously. Our office can keep you informed about the condition of your teeth and gums at your routine oral health checkups. If you have a problem with your smile, Dr. Johnson-G'Sell provides modern dental restorations that provide long-term support after decay, while also preserving the appearance of your smile.
Schedule Dental Care For Your Child At Magnolia Family Dental!
At Magnolia Family Dental, Dr. Johnson-G'Sell and our team are proud to provide great dental care to patients of all ages. When your baby needs their first exam, we can provide a great introduction to dental treatment while providing an important early check on their development. In addition to helping your kids maintain good oral health, we can also help you maintain a beautiful smile! For more information about our practice, or to set up an appointment for yourself or a family member, call Magnolia Family Dental at 314-822-4521.