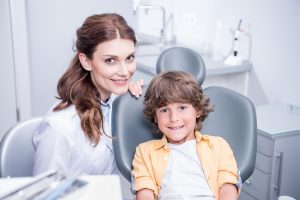 Because family life can be so hectic, it can be exciting to find ways to make important responsibilities easier to address. One thing you can do is look for a dental practice that can provide quality smile care for adults, as well as great pediatric care! Our St. Louis, MO dentist's office is ready to help everyone in your family keep their teeth in terrific health. For our adult patients, we provide support during regular dental exams that can help you stay free of problems that could seriously hurt the quality of your smile over time. Our younger patients receive expert support in a friendly environment, along with instructions that help them take better care of their teeth between appointments.
An All-Ages Dental Office Can Make Quality Oral Care More Convenient
If you want to make sure everyone in your family stays in good oral health, the importance of regular preventive dental care can be hard to overstate. You can find that everyone's smile needs are easier to address when you can rely on support from one practice. Dr. Johnson understands how patients at different stages of their lives have different needs, and we take pride in making sure people enjoy individualized experiences that encourage happy smiles, and lower their risks for issues that require restorative dental work.
Pediatric Visits Help Kids Develop Healthy Smiles
Kids are less familiar with oral health care than their parents, and they tend to have a relatively hard time resisting sugary foods. To help your child keep their teeth in great health, make sure they start appointments at the appropriate age. A "well baby exam" upon the arrival of their first tooth, or by their first birthday, can help them adjust to the dentist's office. By the time they turn three, it can be appropriate to begin their routine checkups. In addition to providing evaluations and cleanings, Dr. Johnson can help kids develop better oral hygiene habits between appointments, and monitor the development of their oral structures.
Are You Keeping Your Smile In Good Health?
With an effective oral care routine at home, and access to quality oral health care, you can have an easier time protecting yourself from problems that can require dental fillings, or other restorations. Individuals who stay consistent about checkups can avoid problems like calculus buildup, which can increase your risk for oral health problems. Dr. Johnson can also work with you to address any other issues in your life that can be linked to your oral health.
Schedule Oral Health Care For Your Family At Magnolia Family Dental
Magnolia Family Dental in St. Louis, MO is prepared to provide quality oral health care support to everyone in your family! Parents and kids alike can count on us to help them keep their teeth healthy and lovely, and our ability to provide all-ages care can make routine care easier to fit into your busy schedules! For more information, please call Magnolia Family Dental in St. Louis today at 314-822-4521.