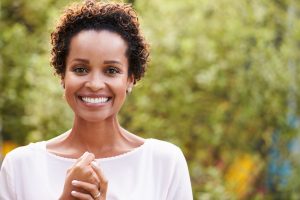 A person's desire to address teeth stains can sometimes go unaddressed because they simply feel too busy to make time for cosmetic dental work. If you have found yourself in this position, you should know that an expert teeth whitening procedure may be easier to slip into your schedule than you think possible. Our St. Louis, MO dentist's office is prepared to help you show off a better, brighter smile by offering you a take-home teeth whitening kit! The personalized kits that we provide make treatments easy to perform, and they can lead to results that store bought whitening products are not able to match.
Can A Take-Home Whitening Treatment Really Improve My Smile?
Teeth stains affect many people to some degree. When stains continue to gather, it can become hard to ignore how the color of your enamel has changed. A take-home whitening kit includes a special gel that can remove stains that are tough to address, even with store-bought whitening products. When this material is applied to your teeth each day for the recommended period of time, you can see your smile become many shades brighter!
Performing Your Daily Teeth-Whitening Treatments
When you take home a personalized whitening kit, you will have whitening gels as well as trays that make the daily application process easier. These trays allow you to comfortably and evenly treat each of your teeth, with the goal of steadily taking care of the stains that have settled in your enamel over time. You can choose the time of day that makes the most sense for you in order to make this process as convenient as possible. Typically, patients can see their results after roughly two weeks of daily applications.
Exploring Other Options For Cosmetic Treatment
If your goal is to make your teeth whiter as soon as possible, we can arrange an in-office treatment that can be completed in one appointment. For patients who want to improve the shape, size, or general condition of teeth, Dr. Johnson can bring up other cosmetic treatment options. You may be interested in having your teeth restored with porcelain veneers that have been custom-made to hide different flaws, and give you a dramatic smile improvement. You can also discuss a bonding and contouring procedure to improve the look of teeth. This treatment option does not call for restorations to be made or placed, which can reduce your treatment time.
Discuss A Teeth-Whitening Treatment At Magnolia Family Dental
If you have questions about teeth-whitening treatment, or if you want to learn how convenient cosmetic dental treatment can be, talk to Dr. Johnson at Magnolia Family Dental about a teeth-whitening treatment! Our St. Louis, MO dentist's office is prepared to help patients feel better about their appearance through a range of modern cosmetic services. To learn more, call Magnolia Family Dental today at 314-822-4521.