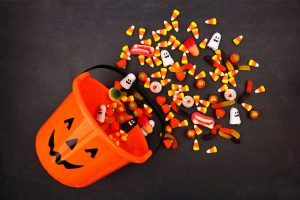 Halloween and candy are closely linked, but candy is also linked to something less fun – poor oral hygiene! Should you be frightened by the effect that Halloween candy is going to have on your family's smiles? Moderation and smart dieting are particularly important at this time of year. Limit how much access everyone in your family has to candy on a typical day, and look for ways to change your usual diet to accommodate the change in sugar brought on by these extra treats. You should also take care to keep up with good oral hygiene during this time. At our St. Louis, MO dentist's office, we can provide important preventive services during a routine dental checkup to help you keep your smile safe at any time of year!
Halloween Candy Can Be An Oral Health Problem For Everyone In Your Family
Even if trick-or-treating is traditionally just for kids, everyone in your household will likely have access to plenty of candy throughout the month. Adults who pick up candy to hand out can find themselves dipping into their stock before the holiday, and kids can receive Halloween-themed treats before the day itself. What this means is that everyone is facing a higher potential risk for cavities!
Make Sure You Control Your Sugar Intake Around The Holiday
It is safe to assume you will have more sugar in your diet due to Halloween candy. There are several changes you can make to avoid oral health problems because of this. Drinking water when you snack gives you a way to wash away particles of food that could stick to your teeth. When you plan meals, remember that you are already consuming more sugar and look for ways to cut back at the dinner table. You can also cut sugar by changing what you drink – dropping sodas and other sweetened drinks will help you avoid problems that call for dental fillings or dental crowns.
Watch Out For Hard And Chewy Candies
Hard candies can do more than just raise your risk for cavities. One unfortunate bite can lead to a chipped or cracked tooth that needs to be restored! Candies that are chewy also create more risks for problems, as these treats often cling to teeth and are more difficult to remove. While better control for your overall sugar intake is important, be particularly careful about harder or stickier products to keep your smile safe.
Count On Magnolia Family Dental To Protect Your Smile!
Halloween can be a fun time of year, but it can be a risky period for your smile! At Magnolia Family Dental, patients can count on protection for their teeth throughout the year! In addition to offering important routine preventive services, Dr. Johnson can take care of you if you need treatment for problems like tooth decay or dental injuries. To learn more about our practice, or to set up an appointment, please call our dentist's office in St. Louis, MO at 314-822-4521.