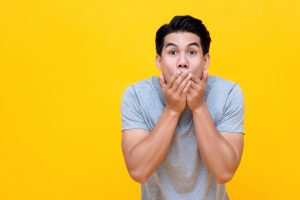 Even if your teeth are healthy, gradual changes in their appearance can leave you feeling unhappy with the way they look. Those changes can be the result of teeth stains that have accumulated. They can also stem from issues with gradual wear and tear on your enamel that change their shapes. When issues like this start to bother you, talk to your St. Louis, MO dentist's office! A cosmetic dental procedure can give you back a smile that you are confident in. Dr. Johnson can also help you avoid future cosmetic concerns by helping you keep your teeth in good health at routine dental exams.
Teeth Stains And Oral Health Problems Can Make You Self-Conscious About Your Smile
Our teeth are protected by the strength of their enamel, but they are vulnerable to problems that can worsen over time. In addition to worrying about cavities, you need to worry about physical wear and tear, and its ability to negatively change your appearance. You also need to concern yourself with stains that accumulate and make your enamel look dull or discolored. Smile changes can also occur suddenly, as you can suffer a dental injury that results in your tooth being chipped or cracked.
Stay Consistent With Preventive Care To Maintain Your Smile
If you want to stay confident in your smile, you should not overlook the importance of regular checkups. Dr. Johnson can recognize early warning signs of bruxism, or nightly teeth grinding, and recommend protection in the form of a custom mouthguard. A guard will keep your teeth apart while you sleep, which will protect them from wear and tear. You also enjoy lessen the chance of advanced tooth decay, which can lead to painful problems. If a cavity is present at a checkup, we can use a dental filling or dental crown made to match the appearance of your healthy enamel for your treatment.
Arranging Cosmetic Treatment To Address Your Concerns
There are multiple cosmetic dental procedures that we can offer to patients who want to positively change the way they look. If you are no longer satisfied with the color of your smile, a professional whitening treatment can deal with the accumulated particles staining your teeth. We can recommend treatment in our office, or provide you with a kit that you use at home. If your teeth look worn or misshapen, we can restore them with porcelain veneers, or we can move forward with dental bonding treatment.
Losing Confidence In Your Smile? Magnolia Family Dental Can Help!
What treatment options are available to patients who are losing confidence in their smile? At Magnolia Family Dental, Dr. Johnson has helped many people in and around the St. Louis, MO area by providing services like teeth whitening, tooth bonding, and more. If you wish to find out more about our cosmetic treatments, or if you would like to discuss any concerns you have about your oral health, call Magnolia Family Dental in St. Louis, MO today at 314-822-4521.