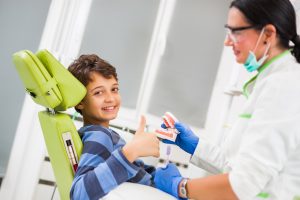 Finding the right dentist for a child is important, and it can have long-term benefits. At our St. Louis, MO dentist's office, Dr. Johnson-G'Sell can provide important oral health services for younger patients, including those who are coming in to see the dentist for the first time. Starting with a "well baby exam," we can introduce your child to our practice, then ease them into the kind of routine preventive dental services that are beneficial to patients of all ages. By making our office a friendly and comfortable environment, we can make kids more comfortable coming back for future appointments. By checking on their developing oral structures, we can also give parents early warnings about possible oral health problems while also preventing issues with tooth decay.
What To Expect From A Well Baby Exam
The well baby exam is an initial appointment for a child whose teeth have just begun erupting. Typically, this appointment is scheduled within six months of a child's first tooth arriving, or by their first birthday. During this appointment, Dr. Johnson-G'Sell and our team make sure our new patient feels safe and secure. In addition to introducing them to these new surroundings, their smile will be gently checked to see if there are any early developmental concerns. When they are older, appointments can include more traditional dental cleanings and evaluations.
Positive Early Visits Help Kids Become Comfortable With Their Checkups
By making kids comfortable at their earliest visits, our practice can make them more comfortable coming back for their subsequent checkups. This can make appointments easier on you, as your kids are less likely to resist going to the dentist's office when they feel safe there. If your child has developed some anxieties around treatment, we can find ways to assist them. This support includes providing treatments while offering nitrous oxide to help them remain relaxed.
Combining In-Office Care With Good Daily Habits
While regular dental exams certainly matter, kids also require regular support at home to keep their teeth healthy and avoid issues with restorative dental work. At home, talk with your kids about the importance of keeping their teeth healthy while you clean them, and take care to limit their access to sugar. As they near the age where they can be relied on to brush and floss their teeth, let them practice these actions on their own to develop a feel for them. Even after they start to clean their teeth for themselves, it can be a good idea to check in on them and make sure they are performing these tasks well.
Schedule Dental Care For Your Child At Magnolia Family Dental
Magnolia Family Dental is happy to take care of patients of all ages. Dr. Johnson-G'Sell is ready to provide a well baby exam for your infant, or help your older kids remain healthy by providing consistent preventive services. To find out more about how we can help you, call our St. Louis, MO dentist's office at 314-822-4521.