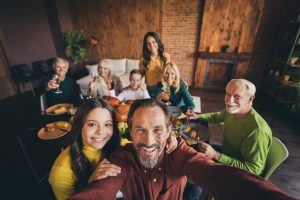 While holiday plans can change from year to year, one aspect of your celebrations can remain constant. At formal and informal gatherings alike, you can expect to enjoy a variety of rich meals and desserts. While this can be good for your spirits, you may be putting your smile at more risk than you realize when you indulge. Increasing the amount of sugary or starchy foods you consume can make you more vulnerable to tooth decay. At our St. Louis, MO dentist's office, we can help you stay on top of your oral health concerns at regular dental exams. While these checkups provide valuable protection against potential problems, remember that you also need to make smart choices between your visits if you want to avoid restorative dental work!
Holiday Treats Can Be Trouble For Your Teeth
The holiday meals, snacks, and treats you enjoy can be a nice break from your usual meals. However, they can also expose your teeth to more harm than you anticipate. Indulging too much can lead to a dental filling or dental crown at your next appointment, especially if you do nothing to adjust your routine around having these treats. One thing to do is think about how you are likely to treat yourself during holiday events and make compromises with your diet on your own time. Cutting back on sugar during regular meals and snacks can help. You can also protect your teeth by drinking water while eating, as this will help you rinse harmful food debris from your enamel.
Stick To Your Regular Oral Hygiene Routine During The Holidays
Even if you do not travel during the holiday, you may change your schedule to work around plans for different festivities. Remember that a short break in your brushing and flossing routine can result in the formation of calculus, and that these deposits on your teeth can make you vulnerable to both dental decay and gum disease. It is important that you stay on top of these habits, and that you remain thorough when brushing and flossing so that you do not ignore harder to reach areas of your smile.
Is Your Next Routine Dental Exam Scheduled?
If your next routine dental checkup is not scheduled already, take care of this as soon as possible. Checkups should occur every six months, unless your dentist sees a reason to recommend something different. Falling out of the habit of scheduling care will leave you vulnerable to calculus buildup, and it can rob you of the early detection and treatment that prevents problems like advanced tooth decay!
Magnolia Family Dental Can Help You Protect Your Smile All Year Long!
Our St. Louis, MO dentist's office is here to help patients of all ages who want to keep their teeth healthy. Through consistent care, we can help you avoid potentially serious oral health issues, and we can assist you in maintaining a lovely smile! If you would like to find out more about our practice, or if you wish to schedule an appointment with Dr. Johnson, call Magnolia Family Dental today at 314-822-4521.