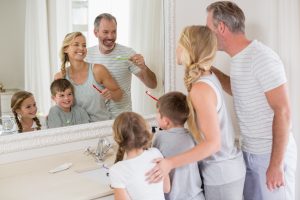 When everyone in your household commits to protecting their teeth and gums from dental problems, you can avoid trips to the dentist's office for restorative work. While parents and kids alike need to take their dental well-being seriously, the right approach can differ for people in different age groups. For your own oral health needs, you should focus on smart diet choices, a consistent oral hygiene routine, and regularly scheduled routine dental exams. While kids should do the same, they can require guidance from their parents and dentist on forming and maintaining good habits. Our St. Louis, MO dentist's office can help you and your kids develop and stick to good habits, just as we can step in with solutions if anyone experiences issues that call for treatment.
Healthy Teeth Are Important At Every Age
Once a person's teeth begin to erupt, they become vulnerable to dental decay. Kids have much to learn about oral health care even as they need to stay safe against trouble with cavities. Your role in protecting them will be an active one at first, but you can take on less responsibility for them over time as they reach an age where they can brush and floss on their own. While adults can stick to a largely consistent routine, gradual changes in your health and enamel erosion can start to influence your susceptibility to dental problems.
Tips For Encouraging Your Kids To Practice Good Oral Hygiene
During pediatric dental exams, Dr. Johnson-G'Sell can focus on education as well as preventive care for young patients. Our practice can start seeing your child at an early age – once their first tooth arrives, a young child can be brought in for a "well baby" exam that introduces them to the dentist's office. Introductory appointments can make oral health care less stressful for kids as they age. While this is important, it is not the only step that you can take to help kids pick up good hygiene practices. Be patient with them when they start brushing and flossing on their own, as it will help them form good habits for life. Brushing and flossing with them after they start to do these tasks on their own can help you model good practices that they can copy.
Are You Doing Enough To Protect Your Own Smile?
You may not recognize some of the "minor" changes in your approach to oral hygiene. A check-in for yourself can be a good idea. Make sure you are still brushing at least twice a day and flossing at least once, and that you do both thoroughly. At your dental exams, you can talk about your routine, express concerns if you have started to have more oral health issues, and receive in-office care that protects your smile!
Magnolia Family Dental Can Help Everyone In Your Family Maintain Healthy Teeth
Our dentist's office in St. Louis, MO is proud to help patients of all ages in our community! If you need to set up an appointment for yourself, or if you are scheduling treatment for your kids, call Magnolia Family Dental at 314-822-4521 today!