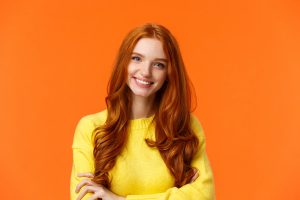 Are you ready to greet the new year with a bright, confident smile? If you currently feel less comfortable with the way you look because your teeth appear dull or discolored, consider the benefits of teeth whitening treatment! At our St. Louis, MO dentist's office, patients can come to us to discuss what they would like to do about the color and general condition of their smile. One thing we can offer is a same-day whitening procedure that produces significant results in a short time! In just a single appointment, you can enjoy teeth that are significantly brighter. This is one of many cosmetic dental services that our practice can offer to patients ready to make changes to the way that they look.
A Single-Appointment Whitening Treatment Can Lead To Exciting Results
With just one appointment, your teeth can be made significantly whiter! At your visit, Dr. Johnson-G'Sell will take care of the whitening process for you, activating the effects of the bleaching agents so that they can safely and quickly work to brighten your teeth. By the end of your visit, you can marvel at how your enamel has brightened, and how your restored smile gives you a more youthful and confident look!
Why Not Try A Store-Bought Whitening Treatment?
Grocery stores and pharmacies often sell whitening kits, and many brands of toothpaste provide products that promise to remove stains. While these can help take care of the particles that have formed on the surface of your teeth, they can be less effective at producing results that give you a notably brighter smile. With professional treatment, you can take care of stubborn discoloration and enjoy results that store-bought products are not offering.
Other Cosmetic Procedures You Can Consider
In addition to providing teeth whitening treatment in the office, we can send patients home with personalized whitening kits! These kits provide custom whitening trays as well as potent bleaching agents that can safely remove stains that store bought products struggle to remove. Remember that we also offer other cosmetic dental treatments that focus on issues beyond discoloration. With porcelain veneers, for instance, we can cover up wear and tear, hide damage, and actually change the shapes of teeth so that your smile is more symmetrical! Our practice also offers treatment with Invisalign aligners to help those who have teeth that are poorly aligned.
Talk To Dr. 
Johnson

-G'Sell About Teeth Whitening Treatment!

At our St. Louis, MO dentist's office, we are ready to meet with patients who are concerned about dental discoloration. As little as one visit to our practice can be all that you need to see stunning smile improvements! We provide multiple cosmetic services in addition to work that can preserve your teeth and address oral health issues that arise. To find out more, please call Magnolia Family Dental at 314-822-4521.