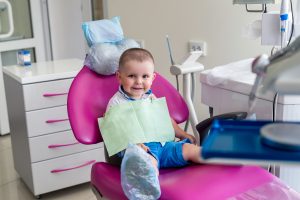 It is important to provide the right care for your child at home, and to secure the right professional services to make sure they are cared for. At an early age, a baby's teeth will begin to arrive. When this happens, you should arrange a trip to see a dentist for a "well baby" exam. At our St. Louis, MO dentist's office, Dr. Johnson-G'Sell provides these initial exams, which provide an early introduction to the dentist's office for your child and an early check on the arrival of their teeth. In addition to the well baby exam, which should take place by the child's first birthday, we can provide complimentary exams for children under the age of two when parents come in for their own routine dental exams!
The Importance Of Positive Early Experiences At The Dentist's Office
There are several benefits to starting routine dental care at a young age. One important advantage is that it helps a child grow comfortable in the dentist's office, which can make future visits less stressful for them. During their initial evaluations, a child's comfort is prioritized, and Dr. Johnson-G'Sell will take care to help them understand what is happening and why oral health care is important. Positive early experiences can make kids more receptive both to future appointments and to guidance on caring for their smile!
Scheduling A "Well Baby" Exam
A well baby exam should be scheduled after a child's first tooth erupts, or by their first birthday. In addition to checking that the development of their oral structures is occurring at a normal pace, your child can receive preventive care while you can enjoy tips on protecting their teeth as they continue to arrive. At around the age of three, kids tend to be ready to enjoy more conventional preventive care when they come in for support.
Dr. 
Johnson

-G'Sell Can Care For Patients Of All Ages!

Our dental practice welcomes patients of all ages, which means we can ensure everyone in your family has protection against tooth decay and gum disease. Make sure you continue to schedule your own routine checkups as you bring your kids in. During these visits, we will provide thorough teeth cleanings and reviews to identify any issues that might require treatment. These reviews can lead to more than just the discovery of cavities. For example, we can determine if a problem with your jaw movement or alignment, TMJ disorder, is causing you to experience facial pain and stiffness, or even issues with chronic headaches and teeth grinding.
Schedule Your Baby's First Dental Visit At Our St. Louis, MO Dentist's Office!
Once your baby's teeth start to arrive, they become vulnerable to potential cavities. At our St. Louis, MO dentist's office, Dr. Johnson-G'Sell is prepared to help patients of all ages, including those whose smiles are just starting to develop! If you have questions about our well baby exams, if you need to set up appointments for your family, or if there is anything else we can do for you, please call Magnolia Family Dental today at 314-822-4521.