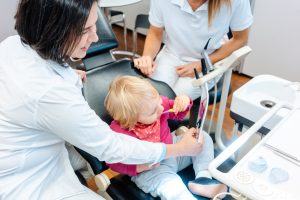 Once your baby's teeth begin to arrive, they will be vulnerable to the formation of cavities. You will obviously have an important role to play in preserving their dental health at this age, you can count on your dentist for help! Our St. Louis, MO dental office is happy to provide a "well baby exam," an appointment for a young child where Dr. Johnson-G'Sell can perform a review of their growing oral structures. In addition to providing early feedback about their development, this is a chance to introduce young children to the environment of a dental office.
The Benefits Of A "Well Baby Exam"
In addition to seeing us for their own routine dental exams, parents are encouraged to bring their young children in for early appointments. Our practice offers complimentary exams for children under age two when their parents come to see us. The early reviews give us the opportunity to confirm your child's oral structures are developing normally, and that there are no early issues that should be addressed. These early visits can also make the dental office a more familiar and welcoming space for kids, which can make them feel more at ease during later visits.
Early Appointments Help Kids Feel At Ease In The Dentist's Chair
Young children go through many firsts. One of those firsts is a first appointment with their dentist. Dr Johnson-G'Sell gives young kids a chance to adjust to their new surroundings and feel relaxed in the dentist's chair. Over time, early visits will help children grow comfortable with dental work. This also provides opportunities to teach kids how and why they should care for their teeth, which helps them develop good habits when they begin to take care of their teeth without their parents' direct help. In the event that a child does develop a cavity, they can feel more comfortable when they have a dental filling placed, or go through another procedure to restore their dental well-being.
We Can Offer Early Guidance For Kids Before They Brush And Floss On Their Own
Just as regular dental exams help adults protect themselves and avoid problems that call for restorative dental work, exams help kids stay safe against problems like dental decay. While children tend to require help with brushing and flossing until around the ages of six or seven, they can receive guidance both at home and from their dentist to ensure they care for their teeth properly.
Bring Your Young Child To Our St. Louis, MO Dentist's Office For Dental Care!
We encourage parents to bring their young children to see us for well baby exams and other early appointments! At Magnolia Family Dental, we even provide complimentary exams for children under two when their parents see us for routine care. To find out more about our services, and how we can support everyone in your family, reach out to our dental office in Kirkwood/St. Louis, MO by calling 314-822-4521.