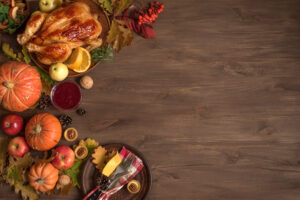 Between time spent with family, delicious food, and delicious desserts, there are many reasons to look forward to Thanksgiving. This time of year can be full of fun, but if you are not careful, you can find that your enjoyment leads to a higher cavity risk. What can you do to make the most of your holiday and still protect your smile? Be consistent with your oral hygiene efforts, even while you travel, and be mindful of how the food you put on your plate might affect your enamel. You should also make sure you are current with your preventive dental services. You still have time to use your dental benefits for the year, and you can count on our St. Louis, MO dentist's office to support your smile!
Can Thanksgiving Make You More Vulnerable To Cavities?
Are your Thanksgiving activities going to affect your cavity risk? This is certainly possible, as many popular holiday dishes can be sugary and starchy, qualities that can cause more trouble for your teeth. With that said, you can make good decisions at this time that control your risk for dental decay. Make sure you keep up with brushing and flossing, even during travel, and be smart about diet choices to protect your teeth and gums.
Be Consistent About Smile Care Even While You Travel
Travel is often a big disruption in your daily routine. Good smile care is something that needs to be consistent even when your day is less than typical. In a short time, the plaque buildup that accumulates on teeth can harden, forming tartar that you need your hygienist's help to remove. You should also be mindful about what you eat and drink on the road, as many people turn to snacks and beverages that are harmful to teeth.
Make Sure Your Next Dental Checkup Is Scheduled
You should have your next routine dental exam scheduled if you want to make sure your smile is free from problems after Thanksgiving. Two appointments per year are recommended, unless you have issues that make a different timeline beneficial. At these visits, Dr. Johnson-G'Sell can provide care for cavities or gum disease. With timely restorative dental work, you can avoid the kinds of complications that cause discomfort and put you at risk for more serious problems with your health.
Your St. Louis, MO Dentist Can Help You Maintain Good Oral Health
When the holidays arrive, you can have plenty of fun meeting with family and friends over delicious holiday meals. As much fun as this can be, the wrong behaviors can raise your risk for cavities. If you have questions about how you can protect yourself at this time, or if you have any other questions about our services, please call Magnolia Family Dental in St. Louis, MO today at 314-822-4521.