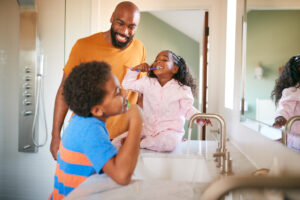 A proper oral hygiene routine is beneficial at every age. However, while you and your kids both benefit from good dental health, you can have different needs when it comes to maintaining your teeth and gums. Our St. Louis, MO dentist's office recognizes this, which is how we are able to provide dependable services for both children and adults. For our younger patients, our pediatric services provide important feedback and in-office care along with beneficial guidance. For adults, we can provide ongoing help so that you can more easily maintain a smile that is healthy and attractive.
Make Sure Everyone Maintains Healthy Smiles In The New Year
Are you in need of some changes to your oral hygiene routine? Many people can grow so comfortable with their brushing and flossing efforts that they overlook shortcomings that make them vulnerable to cavities and gum disease. Even if you take a thorough approach to care each day, you should make sure you have the additional support of regular dental checkups and cleanings. The start of the new year is a great time to rethink your approach to maintaining your dental health. It is also a good time to make sure you are doing enough to help your kids maintain healthy smiles!
Encouraging Your Kids To Keep Up With Good Oral Health Efforts
Kids benefit from guidance on oral health care even before they start to brush and floss their teeth without their parents' help. Early encouragement and guidance can make them take smile care seriously. You can provide that guidance at home, but you should also make sure that they have access to their dentist's support. Regular pediatric dental visits provide education and encouragement along with important in-office services. You can also receive beneficial updates from Dr. Johnson-G'Sell about your kids' developing oral structures.
Keeping Up With Your Own Smile Care Needs
Are you really doing enough to protect yourself against cavities and gum disease? Your regular dental visits will help you by giving you early warnings about any problems that you might have. These visits also provide opportunities to have your smile thoroughly cleaned, which means you have protection against accumulations of plaque and tartar. While it may be upsetting to hear that you have a cavity, being warned about decay during a visit means arranging care before you have to contend with complications that make dental work more involved.
Talk To Your St. Louis, MO Dentist About Maintaining Better Oral Hygiene!
If you want to make sure your family's oral health needs are being met, make an effort to explore how you can improve your hygiene efforts at home, and take care to schedule preventive dental visits. At these visits, you can receive important feedback from Dr. Johnson-G'Sell and also enjoy protection in the form of teeth cleanings. If you would like to find out more about how we can help you take care of your smile, please call Magnolia Family Dental in St. Louis, MO today at 314-822-4521.