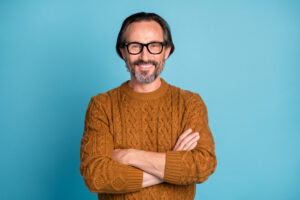 Restorative dental work can do more than just resolve an active problem with your oral health. To protect a vulnerable tooth without changing your smile, our St. Louis, MO dentist's office can recommend that you receive a lifelike dental crown. Both porcelain and zirconia restorations can effectively treat you without altering your appearance. In addition to doing this, remember that Dr. Johnson-G'Sell can help you by providing important updates about your oral health at regular dental exams. When problems are caught in time, they can be addressed with more conservative treatment options.
You Can Treat An Oral Health Problem Without Changing Your Appearance
Will a cavity or dental injury effectively change your smile forever? It is true that these issues do permanent harm to a person's tooth structure. However, with the right dental restoration, your treatment can proceed without making unwanted cosmetic changes. Our practice can provide both dental fillings and dental crowns that effectively imitate healthy enamel and prevent cosmetic problems.
Receiving Your Lifelike Dental Crown
When restoring teeth that are visible when patients smile and speak, our practice can provide dental crowns that are made to imitate healthy enamel. You can receive a porcelain or zirconia crown when you come to Dr. Johnson-G'Sell for support. While both offer welcome cosmetic benefits, zirconia can offer added functional support. In addition to making sure your restoration is the right color and texture, we can take care to provide one that is the right shape and size to both fit comfortably and look natural.
We Can Help You Avoid Future Problems With Your Dental Health
As reassuring as it can be to know that you have access to lifelike dental crowns, you should know that you can also protect yourself against problems by arranging regular dental checkups and cleanings. These appointments provide both protection against oral health problems and early intervention when they arise. If you have a cavity caught and cared for in time, you can receive all the support your tooth needs from a dental filling. This more conservative restoration can cover an area where decay formed while it leaves the surrounding structure unchanged.
Talk To Magnolia Family Dental About Treatment With A Realistic Dental Crown
Through regular dental visits with Magnolia Family Dental, you can avoid problems with your smile and oral health. At times when further treatment is needed, we can make sure that your tooth is restored with a lifelike filling or crown, which means you can leave our office with sustained confidence in your smile as well as your health. To find out more about how we can help you, call our St. Louis, MO dentist's office at 314-822-4521.