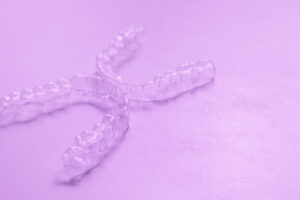 What can you do about poor teeth spacing when you feel uneasy about wearing metal braces? Traditional braces that use brackets and wires to correct malocclusion can offer important changes, as they can fix alignment flaws that hurt your appearance as well as your oral health. But not everyone who wants to correct gaps and overlaps between their teeth needs to depend on them. Our St. Louis, MO dentist's office is prepared to help by offering Invisalign treatment. With these clear, removable aligners, we can help you gradually move teeth into position so that your smile is more uniform and free of noticeable spacing flaws.
Does Poor Teeth Spacing Make You Self-Conscious About Your Appearance?
If you have concerns about poor teeth spacing, we can help you make positive changes to your appearance while not requiring fixed aligners. Instead of using metal braces to move your teeth, we can make the changes you want to see with Invisalign, a custom-made set of clear aligners that will make gradual positive corrections. With these aligners, you can have an easier time fitting your treatment into your daily life, and you will not have to worry that they negatively impact the way you look.
We Can Improve Your Smile With Invisalign Aligners
Through treatment with Invisalign aligners, we can fix gaps, overlaps, and general spacing issues with your teeth that make your smile appear uneven and unattractive. Your aligners are custom-made after a review from Dr. Johnson-G'Sell. The information gathered from your evaluation provides information on the shape and size of your aligners as well as what adjustments need to be made. Once you start treatment, you will wear your designated aligner throughout the day, but you do have the ability to freely take out your appliance when you eat or clean your teeth. Because these appliances are hard to see and easy to remove, they let you enjoy your daily life without feeling an imposition from orthodontic work!
Reviewing Your Options For Cosmetic Treatment
Because you have options for cosmetic dental work, you can look into different answers to questions that you have about how you can improve your smile. One of our options involves the placement of thin, durable veneers to restore teeth that stand out for any reason. We also offer teeth whitening services that help you deal with tougher stains that resist store bought treatments.
Talk To Your St. Louis, MO Dentist About Clear Aligners
Through the use of Invisalign clear aligners, we can help our patients deal with embarrassing flaws linked to poor teeth spacing. If you want to know more about what these appliances can do for you, or if you want to learn about other services that can improve your smile, call Magnolia Family Dental in St. Louis, MO today at 314-822-4521.