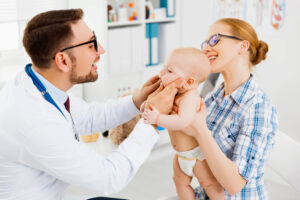 Your baby's development can be a wonder to witness. With that said, without the right support and information, you can find yourself wondering if you are doing enough to help them grow up healthy and happy. The good news is that while babies need plenty of support, you have help available to you. Our St. Louis, MO dentist's office is ready to provide an important introduction to oral health care for young children. At an initial visit, we can field questions and provide a gentle visual examination to see how your baby's teeth are developing. From there, we can provide continued support during preventive appointments that emphasize child-friendly care and important updates about their growth.
The Importance Of A Positive First Impression
What needs to happen to make your child's initial visit with their dentist a success? One matter you should not overlook is the importance of a good first impression. Simply put, when the right care goes into giving them a positive feeling about their dentist and dental office, kids are more likely to feel at ease during subsequent appointments. Dr. Johnson-G'Sell takes care to provide younger patients with the right kind of care. We can transition from their "well baby exam" to gentle early care, then follow this with age-appropriate preventive services that more closely resemble the services that adult patients enjoy.
We Help Parents Introduce Their Children To Dental Care
During a "well baby exam," which should take place within six months of a baby's first tooth arriving, we can provide a friendly welcome and check on the start of their smile development. This visit and subsequent reviews provide a chance for your child to feel at ease in our office. To make these visits easier for you to set up, we provide complimentary reviews for children under two when parents bring them along to their own routine visits.
Providing Long-Term Support For Families
As an all-ages dental office, Magnolia Family Dental makes it easier for families to arrange ongoing oral health services. We can continue to provide friendly, thorough smile care for your kids as they grow up, and we can make sure that you have the right access to preventive support. Of course, we are also ready to step in at any time when one of our patients requires restorative treatment.
Talk To Your St. Louis, MO Dentist About Scheduling Your Baby's First Exam
Your baby's first visit with their dentist can set the tone for their future appointments and provide you with important feedback about their development. Magnolia Family Dental is proud to provide quality smile care to people of all ages in the St. Louis area, and we are ready to make sure everyone in your household has the right oral health support! If you would like to find out more about how we can take care of you, call our St. Louis, MO dentist's office today at 314-822-4521.