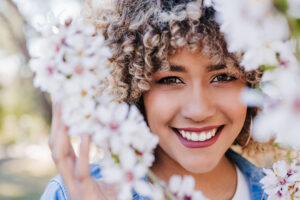 The spring season has arrived, and the nicer weather can dependably bring us out of our homes. Hopefully, you feel ready to greet the season and the people you encounter with a happy, confident smile. If cosmetic concerns make this difficult, know that our St. Louis, MO dental office can help! Dr. Johnson-G'Sell provides different options for cosmetic dental work. Those options include treatments that effectively fight accumulated enamel stains. When you rely on professional care instead of store bought treatment options, you can see remarkable improvements that boost your overall confidence!
What Makes Teeth Stains Difficult To Fight?
There are many people who feel some embarrassment over their teeth stains. It can be hard to ignore how your enamel color has changed over time, but it can be surprisingly difficult to address the problem when you only rely on store bought products for treatment. Whitening agents that can be picked up at your nearby grocery store can have some impact, but they can leave behind stains that have settled over the years. To make a more significant change in your appearance, you can talk to Dr. Johnson-G'Sell about using a whitening kit provided at our office. We can also offer in-office treatments to help deliver results in a shorter time.
Arranging A Cosmetic Teeth Whitening Procedure
The option to take home a professional whitening kit means you can still take care of stains at your convenience, but you can do so while using a more advanced treatment than you can find on store shelves. Through daily applications of the whitening materials provided by our office, you can see gradual improvements that build to stunning overall changes. If you would prefer to take care of discoloration in a shorter time, we do have the option of performing an in-office treatment. This can provide the same kind of results, so you still show off teeth that are many shades brighter than before.
Learning About Other Options For Making Your Smile Brighter
There are different cosmetic dental procedures we can offer to patients based on the concerns they have about their appearance. You may need help with intrinsic discoloration, a problem within the tooth structure that hurts your smile color. To address this problem, we can recommend that you receive porcelain veneers, or that you take on problems through tooth bonding and contouring treatment. These services also make improvements to teeth that are misshapen, damaged, and misaligned, leading to more overall improvements.
Talk To Your St. Louis, MO Dentist About Making Your Smile Whiter And Brighter!
The right approach to cosmetic dentistry can have remarkable results. At our practice, patients of Dr. Johnson-G'Sell can learn about the benefits of professional teeth whitening treatments performed in the office, or they can make arrangements to take home a personalized treatment kit that can have outstanding results. If you would like to find out more about how we can take care of your smile, call Magnolia Family Dental in St. Louis, MO at 314-822-4521.