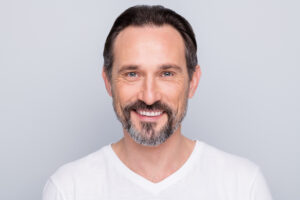 With composite resin dental fillings, we can treat a cavity without affecting your appearance. The resin substance is applied directly to the area where your decay has formed, and it will provide protection to ensure that your bite, like your smile, is not changed by your treatment. Remember that our St. Louis, MO dentist's office is here to do more than just respond to problems with dental decay. During your regular appointments, Dr. Johnson-G'Sell can provide early warnings about decay and help you avoid trouble through our preventive services.
How A Dental Filling Restores Your Tooth Without Changing Your Smile
The right material can protect a vulnerable tooth without changing the way it looks. This means you will not have to concern yourself with how its presence will impact your overall appearance even if you need work done in a visible space. While it is capable of imitating your healthy enamel, composite resin is still strong enough to provide long-term protection, so we can keep your tooth safe even as you still rely on it to contribute to your bite function.
Receiving A Filling For Your Cavity
Before your filling is placed, Dr. Johnson-G'Sell will carefully tend to the area where your cavity formed. By removing the decayed tissues and cleaning this space, she can stop the problem from becoming more serious. After this is done, the composite filling can be placed. After its application, this material will harden to create a strong bond. Because it adheres to your enamel and matches its appearance, you can feel confident that it will go unnoticed.
We Can Take Care Of More Severe Cavities With Dental Crowns
What stands between you and treatment with a lifelike filling? If you go too long without a routine dental exam, you can discover that you have an advanced cavity, one that does more permanent harm to your tooth structure. By placing a dental crown, we can make sure that you still have the right kind of protection. There are porcelain and zirconia crowns available for treatment in situations when these restorations will be visible. Both are able to match your enamel and prevent problems with your smile. You are less likely to experience this kind of problem when you stick with consistent semiannual dental appointments.
Magnolia Family Dental Can Take Care Of Your Cavity With A Lifelike Filling
Dental fillings play an important role in cavity treatment. By using composite resin as our material of choice for fillings, our restorations can offer lasting support while still preserving the way patients look. Take advantage of your regular dental checkups and cleanings, as they provide early warnings about dental decay before there are complications that have to be addressed. To find out more, call our St. Louis, MO dentist's office at 314-822-4521.