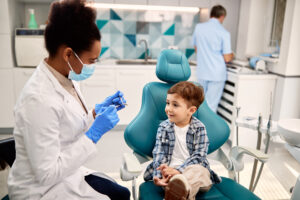 Young children count on their parents for support in many areas, and in many ways, but you are not alone when it comes to caring for their teeth! Our St. Louis, MO dentist's office is ready to help you protect your little ones' teeth by providing dedicated pediatric dental services. During the earliest appointments they attend, small children can be gently welcomed to the office, and they can be guided through comfortable visual exams and introduced to both smile care and their surroundings. When the time is right, we can transition to pediatric services that offer care that is more in line with general preventive dentistry. With that said, we still focus on making them feel comfortable and safe, and we can provide guidance to help them learn better smile care on their own!
Starting Oral Health Care For Your Young Children
When your child's teeth begin to arrive, they face a threat that you yourself have to deal with on a daily basis. Cavity concerns affect people of all ages, and young children depend on their parents to defend against them. What you can do to help is keep up with cleaning their teeth and limit the sugar in their diets. You should also protect them by scheduling pediatric dental visits. These early appointments can be especially valuable because they act as introductions to oral health care, which makes future visits easier. They also help by keeping up with your child's development so that any problems with their growing oral structures can be caught and resolved.
The Value Of Early Dental Visits
Early dental visits help children feel at ease in the dentist's office. Dr. Johnson-G'Sell and our team can make sure our youngest patients have the right introduction to both our practice and dental care more generally. The initial appointments gently welcome them while carefully evaluating them for any early signs of trouble. Cleanings and other services that more closely resemble adult preventive care can begin when kids are old enough for them. By establishing good relationships at their initial visits, we can help your kids feel at ease when more involved care begins!
We Support The Smiles Of Patients Of All Ages
Our practice provides oral health support for St. Louis families by caring for kids and adults. That means you can arrange to have all your smile care needs addressed at one convenient location! It is important that you continue to prioritize your own well-being even as you focus on bringing your kids in for support. During your general dental exams, you can rely on us to provide support in the form of cleanings as well as reviews that lead to the detection and treatment of problems that may have escaped your notice.
Schedule Oral Health Care For Your Child At Our St. Louis, MO Dentist's Office!
At Magnolia Family Dental, patients of all ages can rely on the support from Dr. Johnson-G'Sell and our team. For our youngest patients, we can provide the right introduction to smile care, which can help them feel more at ease with future appointments. If you would like to discuss appointments for your kids, or if you need to set up your own visits, call our St. Louis, MO dentist's office today at 314-822-4521.