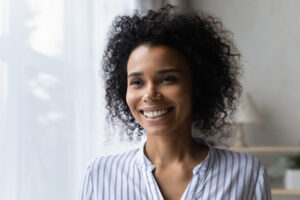 There are real improvements that you can see when you receive dental crowns. They can have welcome benefits for your oral health, but they are not limited to providing functional support. At our St. Louis, MO dentist's office, we can recommend that you receive a crown that can imitate your natural tooth and provide benefits for your smile! Responding with this kind of restorative treatment can be important for addressing problems with dental decay, concerns about dental damage, and even trouble with teeth that are naturally misshapen or undersized. We can also help you feel more comfortable with your appearance and oral health by providing a new crown to replace an older one that no longer offers the support you require.
Dental Crowns Provide Bite Support And Cosmetic Improvements
There are different reasons why Dr. Johnson-G'Sell might recommend treatment with a dental crown for a vulnerable tooth. This work is often done in response to tooth decay, as there are circumstances where teeth require more support than fillings alone can offer. You could also require this support because a tooth is physically injured. Restoring a tooth that is not the right shape or size can have cosmetic benefits and improve your dental function.
Receiving Your Dental Crown
After confirming that your smile care should include the placement of a dental crown, we can perform the work of permanently supporting your tooth. The right restoration will need to be carefully made so that it fits comfortably over your tooth and provides a secure fit without interfering with other teeth. If you are receiving a restoration made to imitate a healthy tooth, it should also imitate the look of your enamel. For a lifelike appearance, we can recommend an E-max crown, something that can have long-term value while also providing functional support.
Should I Be Worried About An Older Crown?
A crown is intended to provide permanent protection for a tooth. If an older restoration begins to feel insecure, or if something happens to yours that leaves it loose, broken, or uncomfortable, let us know as soon as possible. If necessary, Dr. Johnson-G'Sell can make sure that it is replaced with a durable and attractive crown so that you can remain protected.
Talk To Your St. Louis, MO Dentist About Care With A Dental Crown
Dental crowns are an important part of restorative smile care. Through their placement, we can give you important support for a tooth in a vulnerable state, and we can make sure that its presence doesn't create any lingering issues with your smile! To find out more about the smile care solutions we provide, call Magnolia Family Dental in St. Louis, MO today at 314-822-4521.