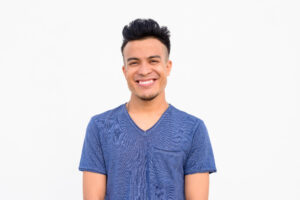 Are you currently feeling less than thrilled with your smile? Whether you have recent concerns or longstanding doubts about your appearance, you can benefit from exploring cosmetic treatment options. At our St. Louis, MO dentist's office, Dr. Johnson-G'Sell can recommend care based on your goals and concerns around work to change your smile. For patients who look into porcelain veneers as a treatment option, many lasting changes can be made in as little as two appointments! While these restorations are able to provide long-term improvements in many areas, they are slender enough to minimize the work required to place them.
What Improvements To Your Smile Would You Like To See?
There are different issues that make people feel the desire to seek cosmetic dental work. For some, a specific issue like discoloration, a chipped tooth, or another flaw will be what motivates them. Others can have several teeth in need of care, and may need to take on different kinds of problems. What you can find is that even if you do need to address a number of problems at one time, you can see the results you truly want from just one procedure! Thanks to porcelain veneers, you can correct issues with the way you look in just two appointments, and you can count on those improvements to last.
How Veneers Address Embarrassing Flaws
Porcelain veneers only cover the front surfaces of teeth. This limits the amount of preparatory work that is called for in your treatment. Each of the restorations you receive will be custom-made so that we can ensure they have the right fit and look for you. To provide the proper planning, you will come in for an initial appointment where Dr. Johnson-G'Sell can take necessary measurements and provide preparatory work to ensure that your restorations stay secure. After your veneers are prepared, we can bring you in for your second appointment, which will see your restorations placed!
Other Approaches To Cosmetic Treatment We Can Take
There are different cosmetic dental services that we are prepared to provide. They include options such as the treatment of flawed teeth through dental bonding and contouring work. This kind of care takes on problems with tooth shape, size, and color without the need to use permanent restorations. We can review this as an option as well as other services like teeth whitening and work with Invisalign aligners.
Talk To Magnolia Family Dental About Treatment With Porcelain Veneers
By taking on smile flaws with porcelain veneers, you can resolve problems with your appearance that have made you self-conscious. Because they can take on so many problems at once, and because these restorations are made to last, we can ensure that you have long-term benefits that make you truly happy to show off your smile. If you would like to find out more, call Magnolia Family Dental in St. Louis, MO today at 314-822-4521.