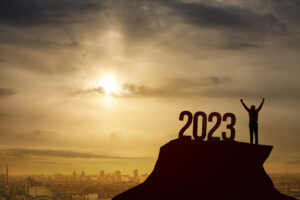 The end of the year is just days away, making this a great time to think about how you can make the most of 2023. Both broad and focused resolutions can be well worth making, as they can help you clarify what you want for the new year and what you hope to avoid. Whether you had troubles with cavities or gum disease in the past year or not, you should put some thought into how you can take great care of your smile next year. Remember that regular dental visits play an important role in dental health. At our St. Louis, MO dentist's office, we can provide consistent care to keep your smile safe, and we can step in and care for you at a time when a problem arises and requires care.
Have You Struggled With Poor Oral Health In The Past?
Better oral hygiene will help you stay safe from different threats to your teeth and gums, and it can help you maintain confidence in your appearance. If you had to undergo care for a cavity or gingivitis in the past year, or if you want to keep up a streak of problem-free dental visits, you should think about what you can do to preserve your well-being in the new year. Consistency in routine dental appointments will be important, but you should also think about how your daily routine might affect your ability to avoid problems.
Things To Consider If You Want To Keep Your Smile Protected
If you want to avoid trouble with cavities and gum disease, commit to a good oral hygiene routine that you practice every day. When it comes to brushing, you should clean your teeth at least twice a day. Spending at least two minutes on this task will help you reach even those areas that are easy to miss. Remember that you will have to floss each day in order to care for the spaces between your teeth. These are areas where bacteria and food particles can gather, making them vulnerable to problems if they are overlooked. Of course, to fully protect yourself each day, you should also make effective diet choices—limit sugary and acidic products, and drink water to stay hydrated throughout the day.
Make Sure You Schedule Preventive Dental Care For 2023!
Keeping up with preventive dental services in 2023 and beyond will help you avoid the kinds of problems that require restorative dental work. These visits provide protection through cleanings that will fight tartar and plaque; they also provide support in the form of careful reviews performed by Dr. Johnson-G'Sell. During your evaluations, you can learn about problems that have not yet grown serious enough to cause you discomfort. As unwelcome as it can be to hear that you need cavity treatment, receiving that treatment in time to prevent complications will help you preserve more of your tooth structure and help you avoid a potential infection!
Our St. Louis, MO Dentist's Office Can Help You Maintain A Lovely And Healthy Smile!
For 2023 and beyond, you should think about how you can sustain a healthy and lovely smile. Our practice is here to help by providing ongoing preventive services, and by stepping in to care for you when problems do arise. For more information on how we can support your oral health in 2023 and beyond, reach out to Magnolia Family Dental in St. Louis, MO today at 314-822-4521.