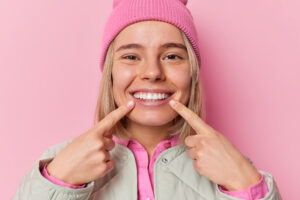 For some people, what begins as minor cosmetic concerns could lead to major issues with a lack of treatment. You could assume a bright and beautiful smile is not possible, or that this would require multiple treatments. But your St. Louis, MO, dentist's office could help transform the overall appearance of your smile with our porcelain veneers.
The Cosmetic Capabilities of Our Veneers
When placed, a porcelain veneer covers the front and sides of the teeth. Which means they can offer major transformation instantly. For example, our team could use them to correct minor damage, or to reshape a malformed tooth. Placement could also address gaps between teeth and even cover intrinsic teeth stains, also known as permanent discoloration. Our veneers also lengthen teeth that bruxism may have worn down, and could even correct the appearance of minor misalignment, so you avoid the need for braces or aligners to enjoy an even looking smile. For many, this is a major transformation in only two visits!
Creating Your Custom Cosmetic Restorations
How do we create porcelain veneers? There is no one-size-fits-all approach, so every individual one is custom-made for the tooth we've attached it to. Our team will begin by numbing the tooth and then carefully removing a very thin layer of outer enamel, making room for your restoration. Once we do, we will take detailed digital images of the tooth and then use them to design and fabricate the finished product. The restoration will be made of porcelain, which is not only strong and durable, but can be color-matched to blend with the rest of the smile. We could even discuss whitening your teeth beforehand so they match your brightest possible smile.
Placing Your New Veneers
When they're ready, you will return to the office so we can check the fit, make any necessary adjustments, and then attach your finished restorations with a powerful bonding agent. You then leave with a new smile, one that looks fantastic. Keeping your restorations bright and safeguarding the teeth they're attached to is possible with routine care. This includes brushing and flossing properly, a healthy diet low in sugar and starch, and of course, regular six-month visits for checkups and cleanings.
If you have any questions about how our team can offer a new smile with these cosmetic restorations, or about any of our other cosmetic treatment options, then contact our team today to learn more. A new year is the perfect time to make major changes to your smile!
Our St. Louis, MO Dentist's Office Offers A Stunning Smile in 2023
Do you want to transform the appearance of your smile in 2023? If so, we can help with our custom-made treatments. For more information on creating cosmetic dental restorations, reach out to Magnolia Family Dental in St. Louis, MO today at 314-822-4521.