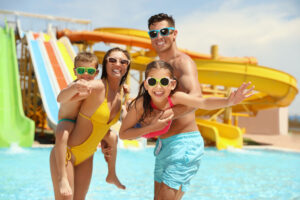 If you are about ready to head out for vacation, take this opportunity to teach the little ones a valuable lesson in routine smile maintenance. The summer is a great time to schedule your semiannual checkups, so take advantage of your child's free time and have them in for a visit. Appointments with the dentist are an essential part of their growth into an adult smile, and it is up to you to ensure that they stay on schedule.
At our dental office in St. Louis, MO, you can schedule a combined visit for your family, allowing us to care for each member at the same time. Talk to us about this opportunity and set the tone for the trip to the dentist, as you can show the little ones that taking care of their oral health is nothing to fear. You can give them the confidence to view their checkup as a pivotal moment in their dental development!
Each Member Of Your Family Needs To See The Dentist At Least Twice Per Year
When scheduling your child's appointments with the dentist, are you making sure that your oral health needs are met, as well? Routine cleanings and examinations are necessary for people of all ages, and most people need these visits at least twice a year. Some patients require an accelerated schedule of treatment, so always talk to your provider about your specific needs. And if it has been longer than six months since your last checkup, it is time to speak to an oral health provider.
For children, this schedule of appointments is especially important, as their mouths change at a rapid pace. By keeping to your timeline of semiannual checkups, you give your dentist the opportunity to give you an early diagnosis of anything in need of correction. When you wait, these problems can become worse, so be sure that you are bringing them in for their preventive care.
Take Advantage Of The Summer When Scheduling Their Checkups
The summertime can be a fantastic time to take care of your routine dental maintenance needs. If your child is out of school for summer break, this can give you the opportunity to bring them in for a checkup without interrupting their learning. Mark the start of your vacation with a cleaning and examination, giving the little ones something to look forward to after their preventive dental care!
Set Aside Some Time For Your Family's Dental Checkups In St. Louis, MO
If it is time for your family's semiannual dental checkups, talk to our team about the advantages of a summertime cleaning and examination for both you and your children. To schedule your next appointment or to learn more, give us a call at Magnolia Family Dental at (314)822-4521!