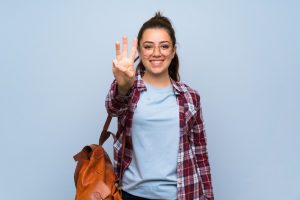 Can your daily behaviors help you sustain a healthy smile? Unfortunately, people sometimes keep up with a few good habits, while missing out on other opportunities to defend themselves against tooth decay and gum disease. While they can go some time without trouble, they can be caught off guard during a dental exam that leads to the discovery of a cavity. If you want to make sure you avoid problems that demand restorative dental work, look for ways to improve your oral hygiene habits. With better behaviors at home, you can look forward to positive feedback during a routine checkup at our St. Louis, MO dental practice!
1. Make Flossing Part Of Your Daily Oral Care Routine
If you think you have something stuck between your teeth, you can reach for your floss container. What you should realize is that flossing is not just a practice for removing items that become stuck – this is something you should do on a daily basis. Daily flossing protects portions of your teeth that are difficult to address with brushing alone. If you brush thoroughly, eat sensibly, attend regular dental exams, yet only floss occasionally, you might find that you need a dental filling because of decay in a hard-to-reach area between teeth.
2. Start Replacing Flavored Beverages With Water At Meals
Ordering a soft drink with your meal at a restaurant can be an easy habit to fall into, but it can also be trouble for your oral health. Drinking flavored beverages throughout your day will expose your enamel to more sugars, which will give oral bacteria more food to consume. The consequence of this is that your teeth experience more damage, and a higher risk for decay. Soft drinks are especially troubling because their acidity can soften your enamel, making it easier for them to develop cavities, and to accumulate particles that stain teeth. Drinking water at meals will reduce your sugar consumption, and make it easier for you to wash away food debris.
3. Replace Your Toothbrush Regularly
Do you remember when you purchased the toothbrush that you currently use? How much attention do you pay to the bristles of your brush? Replacing brushes after three to four months, or when bristles start to look frayed, can ensure that you enjoy better results when you clean your teeth. You should also replace your toothbrush after a period of illness.
Magnolia Family Dental Can Help You Keep Your Smile Healthy!
Magnolia Family Dental is proud to provide patients of all ages in and around St. Louis, MO with great dental care! Dr. Johnson can thoroughly examine your teeth and gums to make sure you are in good health. If trouble is identified, you can look forward to modern treatment at our practice. If you have questions about your oral care regimen, if you want to address a possible smile concern, or if you are just due for a checkup, please let us know. You can reach Magnolia Family Dental in St. Louis, MO by calling 314-822-4521 today!