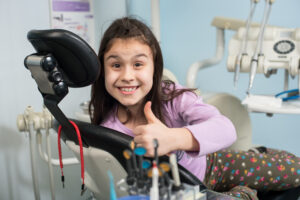 Parents take care of their own teeth, and they also help their kids maintain their oral health until they are old enough to brush and floss on their own. Our St. Louis, MO dentist's office provides support to patients of all ages, which means we can help you as well as your children when it comes to avoiding issues with cavities, gum disease, and other threats. Dr. Johnson-G'Sell can provide ongoing care so that you remain confident in the appearance and well-being of your smile. Our practice is also here to help you introduce your kids to oral health care, and to offer them guidance so that they develop the understanding and skills to maintain their oral hygiene when they are old enough to do so on their own.
Can You Find One Dental Office To Take Care Of Your Entire Family?
Convenience is important when it comes to family oral health care. Simply put, you will have an easier time making sure everyone has time for treatment when you can bring everyone in your household for appointments at one location. Another benefit to bringing everyone to an all-ages dental office is that your kids can keep coming to the same location, with the same trusted team and familiar office, even as they grow up. Our practice is here to support St. Louis families, and we are ready to make sure you and your loved ones have access to the right kind of oral health support.
Scheduling Dental Visits For Your Kids
It is important to bring your kids to a dental office that can make them feel welcome while they also provide age-appropriate care. From their earliest visits, we can help children grow comfortable with preventive services during their pediatric dental visits. When they are old enough, we can transition to a kind of care that more closely resembles the services we provide adults. With that said, there are still extra forms of support we provide them to help prevent cavities. Sealants and fluoride treatments give them better protection against decay so that they are less likely to need restorative work while they grow up.
Planning Your Own Smile Care
Make sure you keep up with your own oral health care by practicing good habits at home, and by scheduling preventive services. At regular checkups and cleanings, you lower your risk for the kinds of problems that negatively affect your well-being. In addition to keeping you safe from problems with decay and gingivitis, we look out for issues with your jaw alignment and movement, and any other issues that can develop and worsen.
Contact Your St. Louis, MO Dentist's Office About Oral Health Care For Your Family!
By providing reliable oral health care for St. Louis families, Dr. Johnson-G'Sell makes it easier for people in and around the community to keep their households protected against cavities, gum disease, and more! Our practice is ready to help you protect your smile, and we can offer reliable support for kids so that they grow up with healthy teeth. For more information, call Magnolia Family Dental at 314-822-4521.