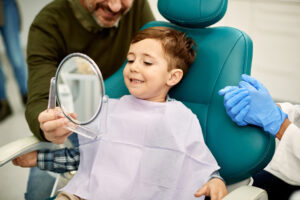 You should prioritize both your smile care as well as the care for your kids. Children require direct help at first, but even as they grow older, your support will make it easier for them to avoid cavity issues. You should also take the time to tend to your smile at home and through regular dental appointments. Fortunately, you can find it easier to secure professional oral health support by finding an all-ages dental practice. Magnolia Family Dental provides beneficial smile care for people of all ages in the St. Louis, MO area. Both general and pediatric dental appointments are available, making it easier for you to come in for your own smile care and bring your kids.
You Can Count On Our Office To Support Everyone's Smile Care Needs
There are differences between the smile care adults and children require. Simply put, kids have to learn how to take care of their teeth so that they can grow up with healthy smiles. In their earliest years, they require direct support at home and a gentle introduction to professional services at the dentist's office. While adults can be more familiar with smile care practices, everyone can benefit from the consistent support offered at general exams. Dr. Johnson-G'Sell takes care to make everyone in your household feel welcomed and supported, and she can make sure that you and your kids are receiving the right oral health care during every visit.
Introducing Kids To Reliable Oral Health Care
From the time their first teeth begin to arrive, kids will need to be kept safe from cavities. Our practice can introduce them to dental care with a "well baby" exam, and we can make initial appointments easier by providing complimentary reviews when children under the age of two are brought in with parents who have appointments scheduled. As they age, their appointments will provide more traditional preventive services, but we will remain focused on helping them learn to keep their teeth healthy and attractive.
Keeping Up With Your Own Dental Health Needs
Through the oral health services we provide to adults, we can help prevent issues like TMJ disorder, dental decay, gum disease, and more. Routine dental exams and cleanings provide important protection, as well as timely warnings when there are issues that need to be addressed. In the event that you do have a problem with your smile, you can be happy to learn that we use restorations that are able to match your appearance and restore the health of teeth.
Talk To Your St. Louis, MO Dentist About Treatments For You And Your Kids
Because our practice is here to help patients of all ages, we can make sure that you and your kids are receiving the right kind of smile support. Dr. Johnson-G'Sell provides beneficial preventive care to help patients avoid trouble with their teeth and gums. When necessary, she can also take on any active problems that require attention. To find out more, please call Magnolia Family Dental in St. Louis, MO at 314-822-4521.