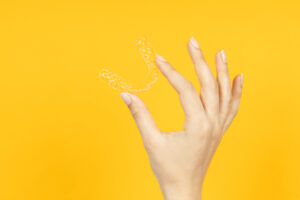 Is your daily routine going to be disrupted when you start orthodontic treatment? With the right approach to corrective work, you can have an easier time improving your smile without making unwanted changes to your regular habits. Our St. Louis, MO dentist's office can meet with you to discuss the benefits of treatment with Invisalign. By using a set of clear aligners to make changes to the spacing of your teeth, you can see welcome cosmetic improvements from a treatment that makes orthodontic treatment easier to fit into your daily life!
Does Orthodontic Work Have To Affect Your Daily Life?
With traditional metal braces, frustrating problems with the alignment of your smile can be corrected. Taking on malocclusion can give you a more symmetrical appearance, and it can resolve problems with gaps and overlaps that draw unwanted attention. While the results of your care can be exciting to see, you can find it frustrating to rely on an appliance that is fixed in place and difficult to keep out of view. Fortunately, you can enjoy an alternative in the form of Invisalign aligners, which are both removable and clear.
Planning Your Treatment With Clear Aligners
By talking to Dr. Johnson-G'Sell about treatment with Invisalign aligners, you can learn about an effective and discreet solution to your issues with poor smile spacing. A set of clear appliances will be custom-made to fit securely and provide successive adjustments that respond to your individual concerns about poor alignment. You can have an easier time depending on these appliances thanks to their clear appearance, and because you can remove them without difficulty. These qualities make it easier for you to go about your typical daily life without worrying about how Invisalign will impact you.
We Offer A Variety Of Effective Cosmetic Treatments
There are different cosmetic services that we provide for people in and around the St. Louis, MO area. With your different options, you can look into treatments that hide gaps and overlaps, problems with dental damage, and other concerns about the shape, size, and color of teeth. In some cases, patients who want to do something about malocclusion can use cosmetic dental work with porcelain veneers to cover their flaws and make desired changes. This service and dental bonding and contouring treatment can work to effectively hide gaps and overlaps as well. For patients who qualify for this approach to care, you can have your results in a shorter time and take on more than just their issues with spacing.
Talk To Your St. Louis, MO Dentist About Invisalign Treatment
Are you ready to do something about your uneven smile? At our St. Louis, MO dentist's office, we can recommend that patients bothered by poor spacing use Invisalign aligners to make the appropriate corrections. To find out more about how we can take care of your smile through this or another service, call Magnolia Family Dental at 314-822-4521.