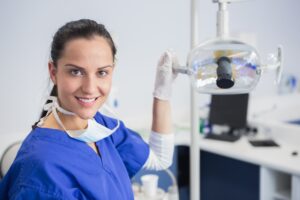 The final months of the year are approaching, but you have more time than you realize to make the most of 2022. One matter to think about is what you have done with your dental benefits to date, and what you can do before they can no longer be used. There is still time to make sure you use them and enjoy the kind of smile care that will help you preserve your health and appearance. Our St. Louis, MO dentist's office is ready to welcome you and help you protect yourself against threats like gum disease and tooth decay. Remember that the more time you put between your last visit and the next one, the more time you give oral health issues to develop and worsen!
Do You Have Dental Benefits You Still Need To Use Before The Year Ends?
The year's end is just a few months away. While you still have time to access them, you have only a limited time to take advantage of any remaining dental benefits. You lose more than just the benefits themselves if you decide not to use them. A lapse in care also means spending more time without important feedback regarding your smile health. That means spending more time letting possible problems with dental decay and gum disease go untreated. It also means letting more time pass without care to remove calculus buildup that will make future problems more likely to occur.
How Your Regular Dental Checkups And Cleanings Help You
Every time you go in for a routine dental exam and cleaning, you receive important support for your oral health. Dr. Johnson-G'Sell provides careful reviews to determine if there are any problems with your smile that will need to be addressed. You may not realize it, but a cavity can form and continue to grow before you start to feel that something is wrong. Timely care is also important for your periodontal health, as we can provide protection for your gums before gingivitis turns into a more serious condition. These visits also remove calculus and plaque so that your smile is less vulnerable to trouble that will require restorative dental work.
What Else Should You Do To Care For Your Smile?
Having access to your regular dental benefits can certainly help you guard your smile. With that said, you should also prioritize smile care at home to fully prevent issues. Better brushing and flossing now can help you avoid the need to make your next New Year's resolution all about doing a better job caring for your smile!
Talk To Your St. Louis, MO Dentist About Using Your Dental Benefits
With the final three months of the year almost here, this is a good time to think about how you can make use of your remaining dental benefits. Your access to smile care will help protect you against a number of threats, and they give you regular updates and let you know if you have any problems that currently need to be treated. For more information, please reach out to our St. Louis, MO dentist's office at 314-822-4521.