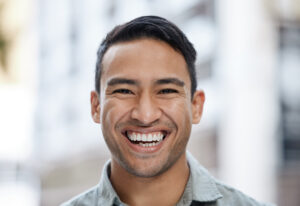 Many people want to see improvement with the appearance of their smile. We understand, and offer a comprehensive selection of cosmetic treatment options to address issues with discoloration or even misshapen teeth. To offer major improvement in only one visit, your St. Louis, MO, dentist's office may prescribe dental bonding and contouring.
Your Initial Cosmetic Consultation
The process begins with a cosmetic consultation, during which we will speak to you about your hopes for your smile and then carefully examine your smile with advanced imaging technology. The diagnosis enables us to assess the cause and extent of your cosmetic problems, so we can create a personalized treatment plan to correct them and enhance smile beauty. For many, we could address multiple minor esthetic concerns in a single sitting.
Dental Bonding
The dental bonding procedure employs composite resin to offer smile improvement. The same material is also used on our dental fillings, as the material is strong and durable, but can be shaded to blend with the tooth structure too. The placement process involves our team numbing the tooth and then gently cleaning the surface and etching it. The prepared composite resin material, color-matched to your tooth, is applied in several layers. We then sculpt these layers as the material cures beneath a light. The last step is to polish the tooth for a brighter appearance.
What issues can this procedure correct? We can use dental bonding to mask permanent teeth stains, or to even close embarrassing gaps between your teeth. Placement could repair minor chips and cracks, correct misshapen teeth, and even lengthen worn down structure.
Contouring Your Smile
In the same sitting, or in a separate one, we could also address minor esthetic concerns with dental contouring. This procedure doesn't necessitate adding material to your tooth. Instead, we gently sand and buff outer structure to correct esthetic issues. For example, we can smooth out grooves, pits, and rough patches in the surface of your teeth, or dull portions that are sharp, jagged, or pointed. Dental contouring could also address minor chips, or even fix overly large or misshapen teeth.
If you have any questions about these two cosmetic procedures, or if you would like to get started with a cosmetic consultation, then contact our team today to learn more. Let's work together to transform your smile in 2022.
Our St. Louis, MO Dentist's Office Can Improve Your Smile's Appearance
We would love to help you enjoy a brighter and more attractive smile in 2023, and we can make this possible with cosmetic dental care. For more information on our approach to dentistry, reach out to Magnolia Family Dental in St. Louis, MO today at 314-822-4521.