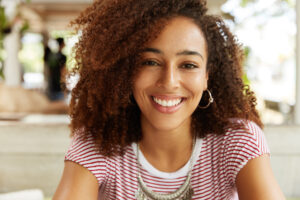 Tooth decay is an oral health concern that impacts smiles of all ages, and could lead to painful symptoms and even the risk of infection. To bring relief and prevent infections or abscesses, you may need a dental filling. In today's blog, your St. Louis, MO, dentist's office discusses how we can place dental fillings that match your smile.
When to Seek Dental Treatment
How do you know if you have tooth decay that requires a dental filling? Well, if you attend your six-month checkup and cleaning visits, then we will be able to identify cavities in the earliest stages of demineralization, often before you experience discomfort. We then treat them before the health and stability of your smile is threatened. But if you don't attend these visits, you may not realize you need care until the decay reaches a more advanced stage, at which point treatment is crucial to prevent dental infection. Common symptoms could include tooth sensitivity when you eat or drink, or a persistent toothache that doesn't subside after a few hours.
Composite Resin
If you experience painful symptoms and we identify the presence of tooth decay, then we will need to place a filling to bring relief and safeguard your tooth. Instead of metal, we use a composite resin that is safe for all ages. The material can also be color-matched to blend with your smile and offer a lifelike appearance. You can smile with confidence following treatment, and enjoy relief from the painful toothache caused by cavities. With routine visits for checkups and cleanings, we can monitor your smile and offer treatment in the early stages, while also lowering your overall risk of tooth decay.
Relief from Painful Cavities
How do we place a lifelike dental filling? To begin, we will numb the tooth to ensure you're comfortable as we remove the decay and clean the tooth thoroughly. We may etch the outer surface too. The filling material is then prepared and shaded, and added to your tooth in several layers. As we shape your tooth, the material is cured beneath a special light. We take care to ensure your bite is balanced, so teeth meet properly and you avoid discomfort. The final step is to polish the tooth for a brighter appearance. In one visit, you enjoy relief and lifelike results.
If you have any questions about recognizing or preventing the onset of tooth decay, or about our lifelike dental fillings, then contact our team today.
Our St. Louis, MO Dentist's Office Offers Natural-Looking Restorations
Our team wants to bring relief and offer treatment that blends with your smile. For more information on treating cavities with lifelike results, reach out to Magnolia Family Dental in St. Louis, MO today at 314-822-4521.