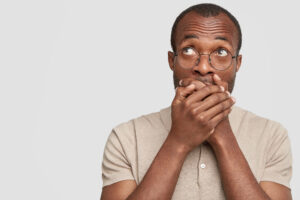 Enamel stains are often responsible for changes in the color of a person's smile. There are a wide variety of foods and drinks that can leave these stains, and they can steadily accumulate even when your oral hygiene routine effectively prevents cavities. However, this is not the only cause of discoloration. For some individuals, problems within the tooth structure will cause changes that cause dullness and discoloration. Our St. Louis, MO dental practice can help you if you need to take on either of these issues and make your smile brighter. We can recommend treatment based on your needs in order to produce the right changes and give you lasting confidence in the way you look.
Why Does It Feel So Hard To Avoid Enamel Stains?
Dark and color-rich foods and drinks can be difficult to completely avoid. Reducing your exposure to them will help you lower your exposure to new stains, but existing discoloration will remain. What this means is that you can have a tough time preserving your smile color, and you can find it even harder to make improvements when you try on your own. Fortunately, you do not have to rely solely on a change in your diet. You can also rely on something other than a store bought whitening treatment, which can have limited impact. By discussing cosmetic dentistry with Dr. Johnson-G'Sell, you can learn about the impact that one procedure can have on how you look.
Discussing Your Smile Concerns With Your Dentist
By sharing your concerns about dental discoloration, you can find out about treatment options that will help you show off a more attractive appearance. Concerns about dental discoloration are often linked to teeth stains that have accumulated over time— and to address them, we can provide a professional teeth whitening treatment. You can choose to whiten your teeth at home with a kit prepared just for you, or you can opt for an in-office treatment that can have you showing off an improved appearance after just one appointment. With both options, your results are made more impressive thanks to the agents used, which are stronger than treatments found on store shelves.
Taking On Problems With Discoloration Within The Tooth Structure
You may need to do something about discoloration caused by changes within your tooth structure. If so, you can still see benefits from cosmetic dentistry, as there are services capable of hiding this issue. Your blemished teeth can be improved upon when you have porcelain veneers affixed to them. Beyond taking care of this issue, veneers are capable of changing the shapes and sizes of teeth, hide damages, and even correct some problems with spacing.
Talk To Magnolia Family Dental About Dental Discoloration
Through the appropriate treatment for dental discoloration, you can see welcome changes to your smile. Our practice can help even when you have this problem due to trouble within the tooth structure. For more guidance on improving the color of your smile, call Magnolia Family Dental at 314-822-4521.